Mario and his friends should be racing in stereoscopic 3D this year.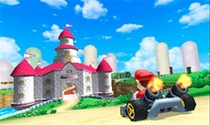 A new entry in the Mario Kart series will hit 3DS this year, according to today's Nintendo of America launch games announcement.
The game has only been shown off in brief videos at various 3DS events, and no concrete details have been revealed outside of the fact that a new iteration in the series is coming out in 2011.
In the same announcement, the 2011 release of The Legend of Zelda: Ocarina of Time 3D, Star Fox 64 3D, and Kid Icarus: Uprising was restated.