The 3DS puzzle/adventure game is scheduled for a summer release.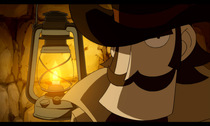 Konami officially confirmed their plans to localize their upcoming Nintendo 3DS title, Doctor Lautrec and the Forgotten Knights for North America. Scheduled for a summer 2011 release, Doctor Lautrec gives players control of the titular doctor as he moves around Paris of the late 1800s, solving both puzzles and mysteries via the application of logic.
The graphic adventure/puzzle title, which strongly resembles Level-5's Professor Layton series, uses the 3D effect of the new handheld to give the player the opportunity to examine puzzles from all sides. The game will also allow the player to zoom in on aspects of the scenery that may serve as landmarks along the a mysterious map that Lautrec and his assistant Sophie are following in the hopes of finding the lost jewels of the French monarchs.