The first 3DS title from Natsume is a little fishy.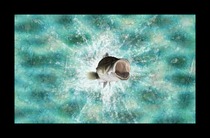 Natsume is bringing Reel Fishing Paradise 3D to 3DS this spring. It will be the first 3DS title from the Harvest Moon publishers.
The game will feature more than a dozen fishing locations, all with 3D effects such as fish popping out of the water.
The Reel Fishing series debuted in 1996 on PlayStation. It made its Nintendo debut on the Wii in 2009. Since then, two entries in the series were released on WiiWare in 2009 and 2010, respectively.