One of the first-announced 3DS launch titles is no more, thanks to a small target demographic.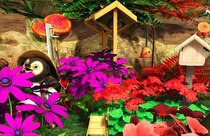 My Garden, EA's 3DS garden simulator, is canceled, as revealed at an EA event in New York City today.
EA is sending out an official statement soon, but the only official reason they gave was that the "target demographic was too small."
My Garden was first announced at the Tokyo Game Show last year and, up until today, was scheduled to be a launch title for the Nintendo 3DS. My Garden is the first game to be publicly announced and canceled for the Nintendo 3DS.