The game will be playable at a Marvel vs. Capcom Fight Club event.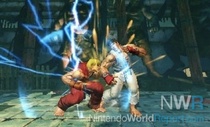 This Thursday, February 3, gamers will have a chance to play a demo of Super Street Fighter IV:3D Edition in Los Angeles as part of a promo for a Marvel vs Capcom 3 event run by iam8bit, known for their annual art exhibition.
SSFIV3D will be available to play on the Nintendo 3DS at the event. Along with the demo version of SSFIV, attendees will also be able to play MvC3 as over 30 characters.
The event is called MVC3 Fight Club Los Angeles and is taking place at Club 740 in Los Angeles on February 3 from 8 p.m. to 11 p.m. Entry is first-come, first-served and the show will include musical acts, food, and exclusive swag for the first 200 attendees.