Get Ash's Pikachu to travel around with YOU.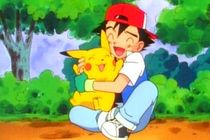 For a limited time, Ash's Pikachu is ready for download in Pokémon Diamond, Pearl, Platinum, Heart Gold, and Soul Silver at local Toys "R" Us retailers.
The store announced that today through February 13 people with the requisite Pokémon games can go to their nearest Toys "R" Us to download the very special Pikachu, who will have moves including Thunderbolt, Iron Tail, and Volt Tackle.
The Pokémon's availability is part of the advertising campaign for the new Pokémon TV show, which follows Ash and Pikachu into the Unova region. The region is the setting for Pokémon Black and White, which heads to DS in North America on March 6.