Even on full brightness, battery life can be extended by 10 to 20 percent.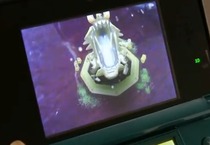 In the latest edition of Iwata Asks, our omnipresent Nintendo President tells about the power-saving mode for the Nintendo 3DS. It uses less power for the backlight when the pixels themselves are darker shades.
Internal testing with the mode off gave the three-hour battery life figure we have all come to know, but when this power-save mode was enabled, the team got 10 to 20 percent more battery life when the backlight was on the brightest setting. With the lowest brightness, the battery lasted five hours, and turning this power-save mode on or off did not make much of a difference.
Another test, with the brightness turned all the way up, showed that turning off 3D could make the battery last 25 percent longer. This would increase the battery life to 3.75 hours on the brightest setting.
Ryuji Umezu from the Research and Engineering Department, one of Iwata's interviewees, also told us that WiFi communications do not have a big impact since they are intermittent, but local multiplayer can decrease playtime by around 10% when the system is on full brightness.
Technical specifications on Nintendo's website previously revealed the 3DS battery life to be between three to five hours.
Translation provided by our Japan Correspondent.