The man behind Capcom's recent fighting games believes the idea should be pitched to Nintendo.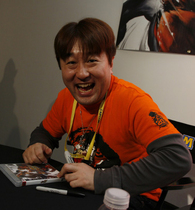 During a roundtable discussion at yesterday's Nintendo 3DS event in Amsterdam, Capcom's Yoshinori Ono was asked if Capcom had considered including Nintendo characters in their fighting games in order to broaden their appeal. Ono was enthusiastic about the idea, but he took it one step further.
Ono said that he would like to make a Nintendo Vs. Capcom fighting game, and wishes for the idea to be pitched to Nintendo of Japan and Masahiro Sakurai, game director on Super Smash Bros. Brawl and the upcoming Kid Icarus: Uprising.
Ono is likely wishing on a star, as no rumors have ever circulated about a Nintendo/Capcom slugfest. But hopefully he's started something.
Be sure to check out our full transcript of the roundtable.