Virtual Console receives two Capcom arcade hits, while the Ware services get everything from block breaking, pet care, and 2D jelly driving.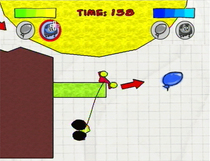 This week in Nintendo Downloads brings us seven new games: two for WiiWare, three for DSiWare, and two for Virtual Console. In addition, there is a new WiiWare demo.

The first WiiWare title is JellyCar 2 from Disney, which is a sequel to the popular iPhone/iPod Touch game. In this game, players must guide squishy cars through over 30 levels. Both co-op and versus play multiplayer modes are available in this driving platformer, which retails for 500 Wii points ($5).

The second WiiWare title is Soccer Bashi, from Icon Games Entertainment. In this Arkanoid clone, players must bounce soccer balls to break blocks and open up a pathway to the goal. There are over 90 levels and extra maps can be created using a level editor. This futuristic soccer game can be yours for 500 Wii points ($5).

The demo version of Art of Balance is also available for download. You can get a taste of the Jenga-like balancing fun found in this WiiWare puzzle game for 0 Wii points (free).
Virtual Console has been bestowed two Capcom arcade games from the year 1985. In the tough as nails 2D platformer, Ghost'n Goblins, players control the brave knight Sir Arthur who must defeat zombies and hordes of other monsters. Capcom's other Virtual Console game is Exed Exes, which is a vertically scrolling shooter that was originally released in North American arcades with the name Savage Bees. Both Virtual Console Arcade releases can be downloaded for 800 Wii points ($8).

Three DSiWare titles are available for download this week and each has either animals or flowers in a starring role. Take care and play with cuddly cats in Petz Catz Family, which is available for 800 DSi Points ($8).

In the iPhone port Surfacer+, players are challenged to fill the screen with white flowers of different sizes using the stylus. EJ Puzzles: Hooked is a fishing themed puzzle game with a variety of fish-filled maps. These two DSi releases (the ones that do not feature cute and frequently fluffy cats) retail for 500 DSi points ($5).