In a stealth manner, Nintendo announces BlazBlu for the system.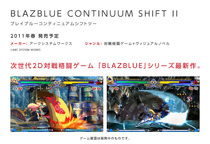 Nintendo's 3DS software page has revealed a previously unnanounced title: BlazBlu Continuum Shift II by Arc System Works. The game has been placed under a "Spring 2011" label along with two screenshots. No other details about the game were given.
The BlazBlu franchise was created by the team behind the Guilty Gear series, and began its life as an arcade title. In 2009, a PlayStation 3 and Xbox 360 version was released, featuring online play and high definition graphics. A sequel was released last year as BlazBlu: Continuum Shift.
While there is a BlazBlu spin-off title for DSiWare called BlazBlu Battle X Battle, this is the first time the fighting game has appeared on a Nintendo system.