Pokemon fanatics can obtain one of the three legendary dogs in honor the upcoming Pokemon Black and White.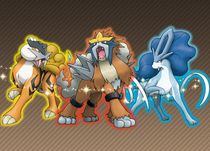 Nintendo and GameStop have announced that they will be giving away shiny versions of the three legendary dogs, Raikou, Entei, and Suicune. Shiny Pokemon are some of the rarest Pokemon in the games, and feature a different color scheme from their regular counterparts. Each week the store will be giving a different legendary dog. The dates are as follows:
Shiny Raikou – January 3 through January 9
Shiny Entei – January 17 through January 23
Shiny Suicune – January 31 through February 6
In order to obtain the Pokemon, players must bring their copies of Pokemon Diamond and Pearl, Pokemon Platinum, and Pokemon HeartGold and SoulSilver to a GameStop store. By transfering one of the legendary dogs to the upcoming Pokemon Black and White games, players will unlock Zoroark, this is the only way to catch this Pokemon.