Prolongued 3D play might affect vision in young children.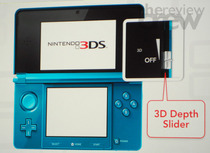 Nintendo advised that children under the age of 6 shouldn't play the 3DS using its 3D settings as they confirmed the lineup of games for Nintendo World 2011, an event in Japan from January 8 to 10 where the 3DS will be playable by the public for the first time.

Since 3D causes more eye strain and fatigue and might affect vision development in children, Nintendo is advising for kids under that age to not play it. The warning doesn't just apply to the 3DS, though. This is a general warning towards 3D entertainment, including movies, due to potential negative effects of 3D, such as motion sickness.
Nintendo recommends a break after 30 minutes of play, and stated that "If your physical condition worsens or you become ill, please stop playing at once." They also explained that 3D effects vary from person to person, hence they included the 3D slider on the system so a wider variety of players could enjoy the handheld.
In addition, the 3DS will include a parental 3D lock in order to prevent extend periods of play using the 3D settings.