It's party time with disco, incubation, time travel, space combat, boss monsters, and karaoke.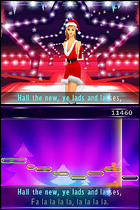 While I sometimes contemplate making up the week's downloads on the spot to provide more interesting commentary, on occasion the subjects spanned by the download games have more variety than anything I could come up with, as this week sees a Virtual Console title, two WiiWare games, and four DSiWare entries.
We begin with Mario Party 2 now on Virtual Console, a game released on Nintendo 64 when the series was still in its salad days, full of vim and vigour. A refinement of the board game/mini-game combo introduced in the first game, it brought a few new themes and fewer "Press A to win. Repeatedly"-style mini-games. Sadly, the "spin the control stick around with your palm until you tunnel through your skin to make Shy Guy go further" extra didn't return as it was considered a health hazard. It is available from Nintendo for 1,000 Points ($10).
On WiiWare, Frobot rolls his disco wheels through slums to reach his "botnapped" girlfriends. Blasting his way through slums, the large-haired robot on wheels will eventually reach the BotBlocker HQ, rescuing the imperilled fembots on the way. Action, adventure, physics puzzles, and shoot-outs await, brought to you by Fugazo for 1,000 Points ($10). There is also a free demo ($0) for download while availability lasts.
Cosmonaut Games, developers of Dive: The Medes Island Secret, bring us their latest release, this time in the tower defense category. The so-called tower being defended is an incubator that acts as a life support system for eggs of different species. Laser canons, blockers, miners, and speed inhibitors are among the 20 weapons that can be used to repel attacks from viruses and bacterial colonies to protect the incubated species. Inkub is priced at 500 Points ($5).
DSiWare titles reach a total of four. First we go back to rescuing girls in Digital Leisure Inc.'s Dragon's Lair II: Time Warp. The laserdisc video game from the year 1991 has been ported to the DSi, complete with Don Bluth's animation. It is a mostly non-interactive short film, with movement and firing required at certain times in order to advance. This comes in at 800 Points ($8).
Cosmo Fighters brings us a multiplayer DSi experience that we may actually have a chance of experiencing as only one player needs to have the game loaded. Train against the CPU in solo mode to master the game's tricks and combos before challenging up to three other players in an outer space battle. This title is from Abylight, available for 500 Points ($5).
Paul's Monster Adventure is an exploration title through a land where there monster boss overlords have been suppressed by the local inhabitants, and now they are slowly dying from starvation and must be rescued. Magical items will help on this adventure to bring the monsters to an energetic state once again. Agetec, Inc.'s release costs 500 Points ($5).
The budget title of the week at 200 Points ($2) is Just SING! Christmas Vol. 2 from dtp. I wasn't paying attention at the time, but I assume that means a Vol. 1 was released and deemed acceptable enough to be followed by a second edition. It's karaoke that you sing into the DSi microphone, with your character dressed up as Santa on stage, with songs including "We Wish you a Merry Christmas" and "Deck the Halls". That's about enough said for this week.