The Street Fighter IV team is focusing heavily on the upcoming 3DS version now that the arcade version has launched.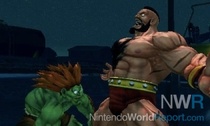 Street Fighter Producer Yoshinori Ono said on the Super Street Fighter IV developer blog that the team is focusing its efforts on Super Street Fighter IV 3D Edition, which is set for release on the Nintendo 3DS, according to Andriasang.
Up until recently, the staff had been working on Super Street Fighter IV Arcade Edition, which recently came out in Japan.

The 3DS version of the game is the next entry in the series. Super Street Fighter IV 3D Edition is on track to be a launch title for the system in Japan on February 26, 2011. It is expected sometime during 2011 in other regions.