The studio behind Conduit 2 is instead using the Headbanger headset.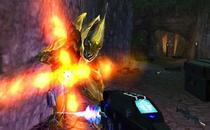 High Voltage Software's Eric Nofsinger revealed that Nintendo asked the developer to not use Wii Speak for its upcoming game, Conduit 2, according to an interview with Bitmob.
Conduit 2 will use the Headbanger headset instead. The headset, also usable in the recently released Call of Duty: Black Ops on Wii, will work while playing with friends and rivals. The new rivals system circumvents Nintendo's Friend Codes, letting you talk online to players that you might not know. They had to secure a waiver from Nintendo in order to do this.
Nofsinger also said that High Voltage will be able to update the game and add downloadable content.
Conduit 2 is coming out in February 2011.