The DS sequel is coming to a handheld near you in March 2011.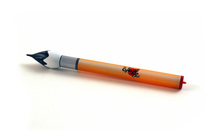 Capcom announced a March 15, 2011 release date for Okamiden today.
The sequel to Okami, the critically acclaimed PlayStation 2 and Wii game, Okamiden takes place months after the original, putting players in control of Chibiterasu, the son of the original game's protagonist.
GameStop will have an exclusive pre-order bonus, including a paint brush stylus and a screen cleaner featuring art from the game.
There is also a Facebook application that will feature giveaways ranging from a 3DS to copies of the game. Also, there is a game on the Facebook page that allows players to draw Goblin Face Graffiti on their friend's pictures.