Get ready for Sissel's adventures on 01.11.11.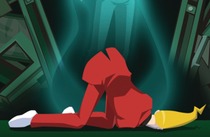 Ghost Trick: Phantom Detective is coming to the US on January 11, 2011.

After being delayed from a holiday release this year, Ace Attorney creator Shu Takumi's latest creation will be available for Western gamers early next year. The game was released in Japan in June of this year.
Capcom also released the official box art for the game today, which we have updated in our game profile.