The 3DS Street Fighter game uses the touch screen for 'shortcut' moves.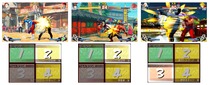 Andriasang has translated Capcom's official Super Street Fighter IV 3D website update, which includes details of touch screen support for fighting controls.
The touch screen has four panels and almost any kind of attack can be assigned to each of them. This includes Ultra Combos, throws, Focus Attacks, standard special moves, and three-button punch/kick simultaneous presses. That means you can execute these attacks instantly through the touch screen, making it easier than standard button presses on the Nintendo 3DS.