The Developer Room website is now open so fans can help shape the upcoming 3DS title.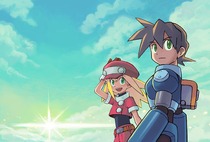 The Mega Man Legends 3 Project is Capcom's attempt to involve the fans in the development of Mega Man Legends 3, which is coming to the 3DS. The newly unveiled Developer Room shows the beginning of this effort.
Currently, fans can vote on their favorite heroine design. There are nine different options, each created by a different Japanese artist, including one from Mega Man's creator Keiji Inafune. The voting will last until October 25, and fans can also discuss the topic in their forums.
Additionally, Capcom is looking for candidates for the position of Mega Man Developer Room Community Liason. This temporary job in Capcom's San Mateo, Calif. campus is for avid Mega Man fans who can manage both the Japanese and English versions of the Developer Room.
Keep an eye out on the Developer Room website for more information about the Mega Man Legends 3 Project.