At the New York Comic Con, Capcom is showing off their latest additions to the platform.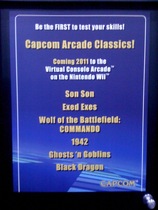 Capcom has unveiled a series of classic arcade games that will bereleasing on the Virtual Console Arcade. In their booth at New York Comic Con, the following titles were shown:
1942

Exed Exes

SonSon

Commando

Ghosts n' Goblins

Black Tiger

These games, several of which were very successful as ports on the NES, were shown off today at the convention. There hasn't been a single release on the Virtual Console Arcade since April 2010, when Zaxxon was released on the service. No release date has been announced for these games.
Thanks to William Brown for the photo. Note that the sign in the photo uses Japanese game names.