Fans can get their hands on some GoldenEye at Activision's booth.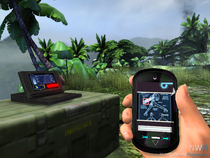 Activision revealed their New York Comic Con lineup today, which includes GoldenEye 007, Blood Stone, and Spider-Man: Shattered Dimensions.
GoldenEye 007 is also being shown off at Nintendo's booth at New York Comic Con. It is unknown if the DS version, developed by n-Space, will be shown at the event. Additionally, it is unknown if the DS version of Blood Stone, which hasn't been shown off much, will be playable.
There will also be giveaways, including a GoldenEye shirt that will be given to fans who compete in trivia contests and multiplayer challenges.