Play the games, get some swag, and meet some producers.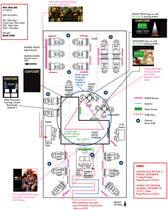 Capcom confirmed their New York Comic Con lineup today, and it will include Ghost Trick and Okamiden for DS, and Sengoku Basara: Samurai Heroes for Wii.
The company will also be doling out lots of swag. There are Okamiden headbands, silly bands, and limited edition t-shirts. Fans of Sengoku Basara can take place in a march through the show floor by becoming one of the 100 fans who wear a Basara clan t-shirt.
Additionally, Keiji Inafune, the creator of Mega Man, Ryota Niitsuma, producer of Marvel vs. Capcom 3 and Tatsunoko vs. Capcom, and Motohide Eshiro, producer of Okamiden and the Ace Attorney series, will be signing autographs, taking pictures, and more at the Capcom booth.