As opposed to simply adding depth, Capcom has added a completely different viewing angle.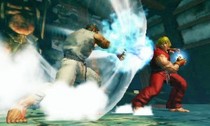 In a September interview with revogamers, Yoshinori Ono, Street Fighter IV's producer, teased that Capcom was adding "something that will surprise people" that "requires the 3D function" to the 3DS port of Super Street Fighter IV. 4gamer's Super Street Fighter IV 3D impressions, from Nintendo's press event on Wednesday, have revealed that this "surprise" is a behind-the-shoulder mode.

The press event demo began with the user selecting whether they wanted to play the game in 2D or 3D. In 3D mode, the game places the camera behind the shoulder, which stays locked there regardless of the speed of the action on screen.

Since Street Fighter series has always been traditional 2D fighters, it had been assumed that 3D would simply be employed to add depth to the fighters and the arena. The impressions say the behind-the-shoulder mode "like a different game." 4gamer says that the change in perspective did not seem to significantly harm the gameplay.

The impressions also note the Slide Pad was capable of executing the combos the Street Fighter series is known for, which had been a concern for series purists.