Capcom's high resolution MT Framework engine powers their 3DS titles.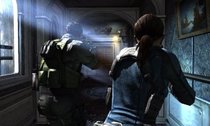 A tech report by Impress Watch reveals the details behind engine that powers Capcom's 3DS games.

The MT Framework is known for being the engine behind Capcom's high definition titles such as Dead Rising, Lost Planet, and the upcoming Marvel vs. Capcom 3. The 3DS games are running on a different version of the engine. The 3DS version of the engine includes HDR Lightning, motion blur, self shadowing, depth of field, realtime color correction, and normal mapping.

The site includes an example of the Resident Evil: Revelations tech demo and how it looks with and without these components.

Street Fighter IV 3DS also runs on the engine, despite the console titles running on a different engine.