Producer Motohide Eshiro talks about how the upcoming game will feature returning developers and brand new ones.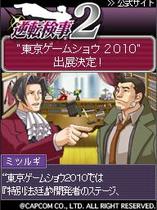 Capcom recently made the Japanese site for Ace Attorney Investigations 2 (known as Gyakuten Kenji 2 in Japan) live. In the debut blog post, Motohide Eshiro, the producer of the previous game, explains how the sequel came about and apologizes for taking so long to produce the sequel.
Ace Attorney Investigations 2 will be at Tokyo Game Show in some capacity next week following its recent reveal.
Below is a translation of the blog post from NWR Japanese Corespondent Matt Walker:
One day the producer of [Ace Attorney Investigations: Miles Edgeworth], Tsuyoshi Yamazaki and I were going through all of the user comments and suggestions on the first game after its release.
"Eshiro san... you wanna do another one?" These words come unexpectedly out of a Yamazaki who is nearly dead to the world from working so hard on the last game!
"What, right now?!" I exclaim back in response. As I'm thinking I must be dreaming this, my mind still crammed with ideas and concerns for the first game and only half conscious from exhaustion - "C'mon, Eshiro-san! Let's make [Ace Attorney Investigations 2]!"
"Er... allright, let's do it again!" I respond back without thinking.
Ok, well, perhaps it wasn't that bad - but I think I got across the passion that Yamazaki-san exhibited when proposing the idea. We also want to make sure we keep in mind all of the ideas that our loyal fans have as well. And so what with having started and all I'm sure you're all well aware that our staff is full of strange and eccentric individuals.
We have people continuing on from the last game as well as fresh new individuals. I look forward to illustrating the crazy contact and shenanigans that go on between these people in future blog posts.
Next time you'll hear from the phoenix himself - Yamazaki-san. Look forward to hearing about him reprising his role as producer!
And so I'll leave it at that - see you again!