The guns look bigger, and there's more text!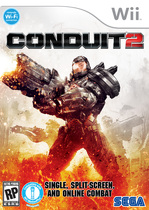 Sega released the official box art for Conduit 2 today, and it is saddled with prominent text that says it has "single, split-screen, and online combat."
Alongside the release of the box art, Sega also teased that more exciting information about the game is on the way. This could be anything from new content or a specific release date.

Conduit 2 is adding four-player split-screen cooperative and competitive multiplayer, more online features, Wii MotionPlus support, and much more when it comes out this fall.