The game's producer says it will be a pure Street Fighter game through and through.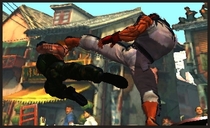 This week's Famitsu features an interview with Yoshinori Ono, the Producer of upcoming 3DS title Super Street Fighter IV 3D Edition. He revealed some interesting tidbits about the game's development.
Ono states that while the PSP and DS systems were considered for a port of Super Street Fighter IV, the Nintendo 3DS was selected because its powerful hardware allowed his team to create the game they wanted. They were also interested in players communicating with each other via the system's wireless features.
While making it clear that 3D Edition's gameplay would be "the same as Super Street Fighter IV", Ono said that his team is currently experimenting with the system's 3D abilities. Utilizing 3D for the game's visual effects was an example of how they might employ the technology.
Ono expects all modes from the console Super Street Fighter IV to be in the 3DS game (including wireless play, local or online not specified), and there may even be original content such as special costumes. Famitsu previously confirmed that all 35 characters from the console version will be present, along with gameplay features such as Saving Attack and Ultra Combo.
Ono emphasized that the game won't be tailored to children in any way just because it's on Nintendo hardware. In fact, he positioned the title as a game "that makes kids grow" into its gameplay.
In terms of the 3DS hardware itself, Ono said that they're weighing their options in terms of how to use the 3DS' touch screen and slide pad. They may use the touch screen for special buttons, or map special attacks to the slide pad.
Super Street Fighter IV 3D Edition is listed by Famitsu as 10% complete, and Ono had no comment regarding a release date. He only said that he was hoping to capitalize on the buzz surrounding the the upcoming arcade edition of the game by releasing it in the same timeframe as that version.