Masahiro Sakurai hints at potential a versus mode, as well as the use of 3DS features that extend the features of the original DS.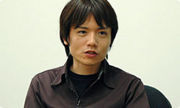 In an interview with the UK magazine GamesMaster, Project Sora director Masahiro Sakurai indicated that his latest project, Kid Icarus Uprising, might feature online play. Revealed during Nintendo's E3 media briefing back in June, the 3DS title is the first for the Kid Icarus franchise in two decades.

In the interview, appearing in the September issue of the magazine, Sakurai mentioned that his team was testing possible implementations of online gameplay. He stated that, "There could be some versus play" but did not elaborate, only noting that the 3DS had a lot of functionality that expands the capabilities of the DS that "people are taking advantage of."