Nintendo's Japanese rewards program offers an awesome collection of t-shirts to choose from.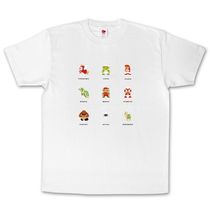 Nintendo's reward program in Japan, Club Nintendo, is notorious for getting some of the coolest Nintendo-related swag in the world. This trend continues with its recent introduction of limited edition Club Nintendo t-shirts.

The t-shirts come in four colors (blue, yellow, grey, and white) and have two different series of designs. The "Dot Design" series features pixel art of Mario and various Mushroom Kingdom flora and fauna, while the Illustration Design" series has cartoon depictions of various characters from the Mario universe. Each series has three back designs and three front designs that purchasers can mix and match as they please, for 72 designs in total.

The 100% cotton shirts are available in small, medium, and large for 600 points each. To see the entire selection, hit the source link above to head over to Andriasang.