The Rabbids are traveling back in time to when their games were mini-game collections.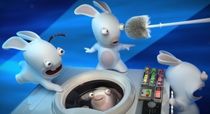 Ubisoft Paris is developing the next Rabbids game, called Raving Rabbids Travel in Time, which is apparently a mini-game collection like the first three games in the series.
Revealed at E3 2010, Travel in Time is adding online play and MotionPlus support to the series. Players can compete in more than 20 games with five gameplay types with up-to-four players on one console or online. Additionally, MotionPlus support is optional for several games, promising more precision. Travel in Time can also be linked to a Facebook profile so players can compare scores with their friends.
The main menu is an interactive museum where you can play mini-games in which the Rabbids dance and sing. There are also more than 30 different costumed Rabbids to play with.
The game's hook is that the Rabbids are traveling through time, and players might be able to decide how the rascally creatures change the past. It will feature events such as the discovery of fire, the breaking of the Sphinx's nose, and the first step on the moon.
Raving Rabbids Travel in Time is set for a November 11 release.