Hori will be releasing a new drum stand to be used with the Nintendo DS lineup.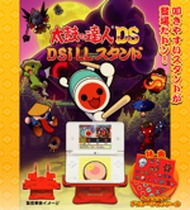 Taiko Drum Master is revisiting the Nintendo DS later this week with the release of Taiko Drum Master DS Dororon! Battle With the Ghouls, and Hori is ready to make gamer's experience the game even better thanks to its new drum stand.

The Taiko Drum Master DS stand, which is compatible with the DS lite, DSi, and DSi LL, allows for players to free up their hands by placing the Nintendo DS on the stand and using two styluses for drumming.

The drum stand is set to be released on July 1 for ¥1,960.