With the game's release rapidly approaching, more details are starting to emerge.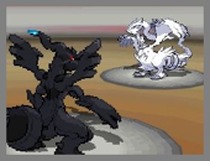 During a Japanese variety show called Oha Suta, a new trailer for Pokémon Black & White was shown. Within in were a number of new tidbits of information sure to make fans eager for the game's release.

For starters, eight new Pokémon were revealed, ranging from a mole with a giant claw on its tail to a mantis-like Pokémon. Five of the eight Pokémon have names, though three others were just briefly shown in the trailer.

Besides new Pokémon, the trailer also showed a three-on-three battle. The details on how this new type of battle works is still a mystery. Other smaller pieces of information, such as new moves, were also revealed.

Pokémon Black & White are scheduled to hit Japan on September 18, as confirmed by Pokémon Sunday on their most recent episode.