Nintendo's new handheld may be charged differently from its predecessors.
With all the buzz surrounding the Nintendo 3DS over the past few weeks, it isn't difficult to skip over a piece of information. One example is Nintendo displaying a different way of charging its new Nintendo 3DS at E3 last week.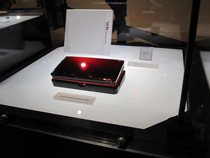 Besides using a typical AC adapter (like what many of the demo units were using during the event), Nintendo also displayed a charging cradle that can be used to charge its new device.
It is unknown whether or not there are additional ways to charge the Nintendo 3DS besides these two options.