The Wii Speak alternative won't work with existing games, for now.
One of the questions gamers had about PDP's upcoming Headbanger Headset - a Wii Speak replacement - was whether or not it would be compatible with existing games that utilize Wii Speak. Unfortunately, a PDP representative that we talked to recently confirmed that it is not compatible with existing games at the present time.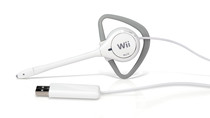 The reason for this lack of compatibility is that the headset requires a special driver to be present in order for it to function with a game. This explains why the upcoming Conduit 2 will work with the device, since the driver will presumably already be present on the game disc.
Games can theoretically be patched to include the driver, however. When pressed as to whether or not Nintendo or Capcom would be offering patches for games like Animal Crossing or Monster Hunter Tri, our contact stated that that information is not available "just yet".