Players without a Classic Controller Pro can obtain one along with the game.
Capcom has announced that they will be releasing a special limited edition version of Sengoku Basara 3. The bundle will include a Classic Controller Pro. This version of the game will be sold for 6,990 Yen ($77.00). Those wishing to get the game only can buy it for 5,990 Yen ($66.00).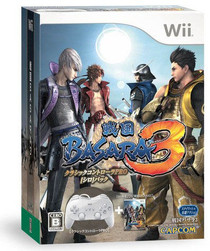 Sengoku Basara 2 Heroes was a Japan-only release on Wii and PS2. Previously, the first game in this action series was released as Devil Kings in Western territories. A North American release of Sengoku Basara 3 is expected later this year, as Sengoku Basara Samurai Heroes.
Sengoku Basara 3 will be released in Japan for the Wii and PlayStation 3 on July 29.