You hunters out there can now check out the current online quests...online.
Capcom's Monster Hunter Tri Community Site has been updated with some handy new functionality. Players can now view a live schedule of Arena and Event quests.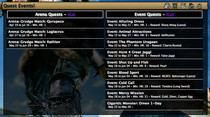 For the uninitiated, up to this point players had no way of knowing what the current week's quests were without going online. Now they can simply go to the Community Site, click on the "Gem" icon in the top-right corner of the main dialog, and view a quest calendar.
As a bonus, hunters can also download the calendar and import it into their own calendars, such as Outlook, iCal, or GoogleCal. They can then sync the Monster Hunter Tri quest calendar with their cell phone so they always know what's going on.
Monster Hunter Tri is available now.