Players now have the freedom to level up their Pokémon wherever, whenever.
Nintendo announced today that Pokémon HeartGold and Pokémon SoulSilver will each ship with the Pokéwalker, a Tamagotchi-like gadget that electronically carries Pokémon outside of the DS.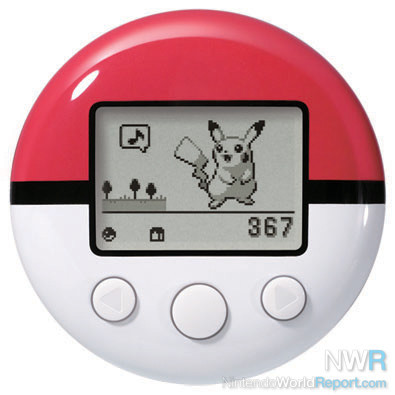 Visually, the Pokéwalker looks like a flattened Pokéball with a black and white LCD screen. The tiny device links wirelessly with a Nintendo DS system to enable the transfer of items and Pokémon between the two. Using the Pokéwalker's built-in pedometer, players will be able generate a currency called Watts with their footsteps. Watts can be spent on mini-games that are played on the Pokéwalker, where a player can catch rare Pokémon and find special items.
Interestingly, the Pokéwalker shares a great deal in common with a mini handheld device that Nintendo sold almost ten years called the Pokémon Pikachu 2. Owners of Pokémon Pikachu 2 could link it up with their Game Boy Color using infrared technology, and then receive items like the Miracle Berry in their copy of Pokémon Gold or Silver.
Pokémon HeartGold and SoulSilver Versions will hit stores shelves on March 14.
New Pokéwalker Lets Players Bring the Fun of Pokémon Wherever They Go
REDMOND, Wash.–(BUSINESS WIRE)– For more than a decade, millions of Pokémon™ fans around the world have enjoyed training their Pokémon within their video games.The March 14 release of the Pokémon™ HeartGold Version and Pokémon SoulSilver Version games lets players continue to enjoy the world of Pokémon away from their Nintendo DS™ or Nintendo DSi™ systems, taking their favorite Pokémon with them wherever they go with the new Pokéwalker™ accessory. This new accessory will come included with each copy of these games.
In Pokémon HeartGold and SoulSilver Versions, players can wirelessly transfer any one of their Pokémon from one of the two games to the Pokéwalker and walk them through virtual routes as the player walks around in real life. By walking, players earn Watts, which are used within the Pokéwalker to encounter and catch wild Pokémon or search for hidden items, and can be transferred into Pokémon HeartGold and SoulSilver Versions to unlock new routes. There are even special versions of certain Pokémon that can only be found within routes on the Pokéwalker, giving players added incentive to keep their Pokémon with them wherever they go. The Pokémon in the Pokéwalker will gain experience points as the player walks, and can even go up one level when they are transferred back into the game. Players also can wirelessly connect two Pokéwalkers to trade items.
Letting players return to the beloved Johto region first introduced in Pokémon Gold Version and Silver Version for the portable Game Boy™ system, Pokémon HeartGold and SoulSilver Versions introduce several new enhancements for the series that enrich these timeless adventures. Created exclusively for the Nintendo DS and Nintendo DSi systems, the games feature detailed graphics that spotlight the unique environments and hundreds of Pokémon that players can encounter and catch. Players can even see and interact with their favorite Pokémon outside of battle, selecting one from their team to follow behind their Trainer as they travel through the Johto region. The games also include robust touch-screen functionality, allowing for smoother control and seamless navigation by the player.
For more information about Pokémon HeartGold and SoulSilver Versions, please visit www.pokemon.com. For more information about Nintendo, please visit www.nintendo.com.