Capcom's slick fighter gets an even slicker stick to go along with it.
Peripheral maker Mad Catz has announced the Tatsunoko vs. Capcom Arcade FightStick for Wii. It is set for a late January release.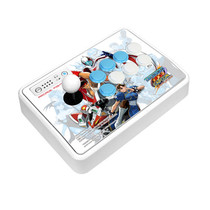 Mad Catz has recently gained renewed notoriety for its lineup of high-quality arcade-style controllers, usually with licensing tie-ins to high-profile titles like Street Fighter IV. The Tatsunoko vs. Capcom FightStick follows in the footsteps of these other peripherals, featuring high-performance joysticks and buttons along with faceplate art by Japanese artist Shinkiro. It is wireless, tethering itself to the Wii Remote.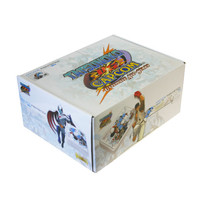 The FightStick also includes two turbo speeds and LED indicators for each button, as well as the ability to switch between using the D-Pad, or Right or Left analog sticks. Players can also "lock" the Home and Turbo buttons to avoid accidental gameplay disruptions.
The Tatsunoko vs. Capcom Arcade Fightstick will launch alongside Capcom's highly-anticipated fighting game, which releases on January 26 in North America.
Mad Catz® Announces Licensed Tatsunoko VS. Capcom™ Arcade FightStick For Nintendo® Wii™
First Time the FightStick is Available on the Nintendo Wii
San Diego, January 05, 2010
Mad Catz® Interactive, Inc. (AMEX/TSX: MCZ), a leading third-party interactive entertainment accessory provider, today announced the licensed Tatsunoko VS. Capcom Arcade FightStick for the Nintendo Wii expected to ship alongside the US launch of TASUNOKO VS. CAPCOM™: ULTIMATE ALL-STARS in January 2010.
TATSUNOKO VS. CAPCOM: ULTIMATE ALL-STARS pairs well-known characters from Capcom®'s roster of games with some of Japan's most beloved characters from anime powerhouse 'Tatsunoko Production'. With a roster of more than 20 colorful combatants to choose from, gamers can create the ultimate video game tag-team combination, in a title which is sure to appeal to hardcore fighting fans as well as gamers new to the genre.
Available for the first time on the Nintendo Wii, the Tatsunoko VS. Capcom Arcade FightStick features a newly developed high-performance Joystick and Action Buttons, alongside striking artwork provided by famous Japanese artist 'Shinkiro'. Dual-speed Turbo functionality for each button complete with LED Indicators allows gamers to execute moves with lightning speed. The eight-button arcade configuration means that those familiar with arcade fighting games will feel instantly at home. An integrated D-Pad switch allows gamers to alternate between D-Pad and Left or Right Analog Sticks for maximum compatibility, while a locking switch prevents accidental operation of the Home button or Turbo settings, securing uninterrupted play.
Connecting directly to the official or Mad Catz Remotes for Wii, the Tatsunoko VS. Capcom Arcade FightStick does not need to be connected directly to the console, thus providing tether free operation.
Darren Richardson, President and Chief Executive Officer of Mad Catz commented, "With the introduction of our FightStick for Wii, our line of Arcade FightSticks are now available on all three console platforms (Microsoft® Xbox 360®, Sony® PlayStation®3 and Nintendo Wii video game consoles). We are delighted to continue our partnership with Capcom by introducing our new FightStick for Wii in conjunction with the Tatsunoko VS. Capcom: Ultimate All-Stars game launch."
"Capcom is pleased to continue working with Mad Catz to introduce the FightStick to the Wii community and allow fans of Tatsunoko VS. Capcom to experience the game in the way it was meant to be played" said Christian Svensson, vice president business development & strategic planning at Capcom Entertainment, Inc. "Many Wii owners are already enjoying Capcom fighting games via the Virtual Console facility and with the launch of Tatsunoko VS. Capcom, we thought it important to give our fan base the opportunity to play with the Arcade FightStick."
The Mad Catz licensed Tatsunoko VS. Capcom Arcade FightStick for the Nintendo Wii video game console is expected to be available across North America mid-to-late January 2010.