We're extending the current Hot Topic another week. If you want a shot at winning an E3 swag bag, all you need to do is tell us what you thought of the show!
We skipped last week for the sake of E3, and this week we're gonna come right back and ask about it! Like always, we'll get back to the previous hot topic down at the bottom of this page, but first...
This week: E3! What did you think of the show in general? The press conference? The announcements? Nintendo's competitors? Are you satisfied overall? Or super disappointed? Let us know!
What we're giving away this week:
A big pile of E3 swag!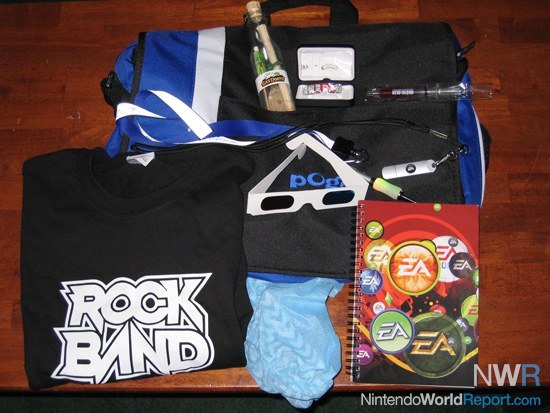 Pogo.com messenger bag, Rock Band T-Shirt, 512MB Lexar USB thumbdrive, UFC teeth grill, Wii Fit blue hospital booties they made you wear to stand on the Wii Balance Board, red-blue 3D glasses, Activision lanyard and light-up pen, Trauma Center New Blood blood syringe pen, Sims 2 Castaway bottle thingy, EA notebook
Reminder: We can only ship to the U.S. & Canada. Posting multiple times will not increase your chances of winning, and spamming posts, breaking the forum rules, or otherwise being a terrible poster may disqualify you or get your account banned. Be sure to check the forum rules before posting. And you can't post if you're not a member of our forums, so if you want to get a chance to win a prize, register now!
Before E3, we asked about the then-just-revealed assist trophies in Smash Brothers Brawl, and what our forum users would like to see. Also, I just now picked somebody to randomly win a Super Mario Bros. Super Show DVD, and it's Mashiro! Now, here's a fine layer of posts from beneath the Earth's crust:
---
Mashiro posted:

It would be somewhat weird to implement but I would love to see an Eternal Darkness Assist capsule.
Maybe have one of the monstrous creatures appear out of it and if the opponents get in a specific range their character will react oddly much like your character would in ED when your sanity meter went down.
Maybe one effect would be that it seems your character is smashed off the stage but he really isn't. Another could be you lose control of your character and it seems like he just walks off the edge of the stage. Reverse controls could be another effect.
There's a lot of different effects they could do with this and I think it would be fun and definitely add to the hectic nature of the game. Oh and of course we have to hear the standard "This . . . . isn't really happening!!!" after the effect is done.
---
KDR_11k posted:

Kururin will probably end up there. He won't be playable due to lack of popularity but there was a trophy of him (or the Helirin, at least) in SSBM so he could probably appear out of an assist ball. Attack would be easy to guess considering he flies a helicopter with huge blades...
---
Chasefox posted:

I like Masahiro's idea of Eternal Darkness Assists...imagining Xel'lotath or however coming out and driving them all insane would be...well...insanely funny, but unfortunately I don't believe that would fit in the spirt of the Smash Bros. games...I think assist trophies/characters should only consist of characters that the player has had to interact with...and while I'd argue that most should be characters that have been enemies of the player, the Nintendog is an obvious fact that that is not going to happen, so I will state it as any more formal interaction the player has had with these characters. And with that being said...
Whatever happened to the Koopa Kids? I'm tired of this Baby Bowser crap, I miss the Koopa Kids of SMB3...they would be a great assist trophy...heck, they can use their stolen wand...or even the airships? Or just their individual attacks from the game. I probably miss them as enemies more than any other character...by the way, weren't they in the Super Mario Super Show? If only I had some way to find out...oh well, DO THE MARIO
Swing your arms from side to side
Come on it's time to go
DO THE MARIO
Take one step, and then again
Let's do the Mario
ALL TOGETHER NOW
Come on now, Just Like That.....
I wanna do the Mario...ahh, good times...
---
couchmonkey posted:

If you can pick up and use all 57 F-Zero Assist Trophies at once, the entire cast performs Grease over the course of an hour, and the player who applauds the most (either by slapping the nunchucks together or tapping any button rapidly) wins a date with Perrin Kaplan.
---
vudu posted:

vudu would like to see Von Bolt from Advance Wars DS as an assist trophy. vudu thinks Von Bolt's Ex Machina attack would be perfect for doing some damage and then freezing opponents for a little while, allowing the summoner to get a few extra hits in. However, vudu thinks that like in Advance Wars DS, the player wouldn't be allowed to directly aim the attack; therefore, he would have to be sure to get the heck out of the way or else fall victim to the might of Ex Machina.
Everyone knows that Sturm is still infinitely cooler.
---
Trigga posted:

My number one idea for an Assist Trophy would be from the Metroid Prime game, but not a Metroid, like has been suggested. I would actually prefer to see a Flying Space Pirate. If you remember in the game, those guys were crazy, shooting missles everywhere. Also when you killed them, they would target you as they crashed back to the ground. They could do that when it was time for them to "leave" so to speak. I think a Flying Space Pirate would fit very well within the Smash Bros. universe as an Assist Trophy.
---
vudu posted:

This is the kind of topic where if you don't pop in on the first day all the good ones are already taken.

As already mentioned, both Tingle and Fawful need to be assist Trophies. There's no getting around this. I'm sure we'll see both Gorons and Zoras represented.

And finally Error; can't forget Error.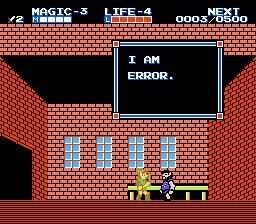 ---
Click some super popular threads to see what all the hubbub is about!

Nintendo Console Discussion - Was anyone else disappointed by E3 this year?

Nintendo Console Discussion - Nintendo E³ 07 Press Conference MegaThread

Nintendo Console Discussion - E3: Interview answers about Animal Crossing, a new Zelda, 1:1 sword fighter and Pikmin.

Nintendo Console Discussion - Mario Kart Wii Mega Thread

The Funhouse - Post a new avatar for GoldenPhoenix and/or Requiem in this thread

Nintendo Console Discussion - IGN Podcast alludes to the "resurrected Nintendo franchise" that was a no show at E3

Nintendo Console Discussion - E3 Press Conference Reviews (for all Press Conference)