Despite there being more than twice as many launch Wiis than PS3s, EB and GameStop may only be giving out the same amount of pre-orders for each console. Updated with pictures.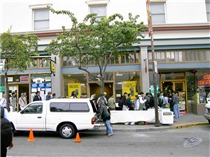 In the hours before game specialty shops across the country are to open and accept Wii launch console pre-orders, Planet GameCube has discovered that Wii pre-order availablity may be as scarce as reservations for PlayStation 3 consoles.
In talking with an amiable EB Games employee killing after-hours time outside of his store in the Southern California area, we have learned that his store, and quite possibly the whole EB/GameStop chain, will only authorize as many Wii pre-order sales as they were allowed to sell for the PS3. In the case of this particular store, a maximum of 8 Wii pre-orders would be guaranteed to those willing to fork over the $50 deposit. Two of these systems would be made available to store employees if desired, bringing down the public number to only 6.
The store in question handed out about the same number of PS3 pre-orders. This is quite curious, considering that Nintendo is planning to release at least a million Wii consoles at launch, while Sony will ship out no more than 400,000 in North America. If there will be more than twice the volume at launch, why wouldn't twice the pre-orders made available?
We should stress that this does not mean that every EB and GameStop will only have six Wiis to pre-sell. The employee mentioned that a major factor which determines how many units a particular store would be allocated had to do with how many games (not just Wii games, all games) it could get customers to pre-order. He cited one store getting 25 PS3 units to pre-sell based on "how many copies of Madden they got pre-ordered." Other stores may be getting that many or more Wii pre-sell authorizations. We won't know for sure until the dust settles at the end of Friday.
Brick-and-mortar EB Games and GameStop stores will officially start selling pre-orders later today. If you were planning simply walking in to one in the afternoon and expecting there to be plenty of systems available for reservation, don't be surprised if you get shut out.
Update by Aaron Kaluszka
Here are two pictures of the preorder lines in Berkeley, CA taken shortly after 10AM, after unlucky latecomers had already left.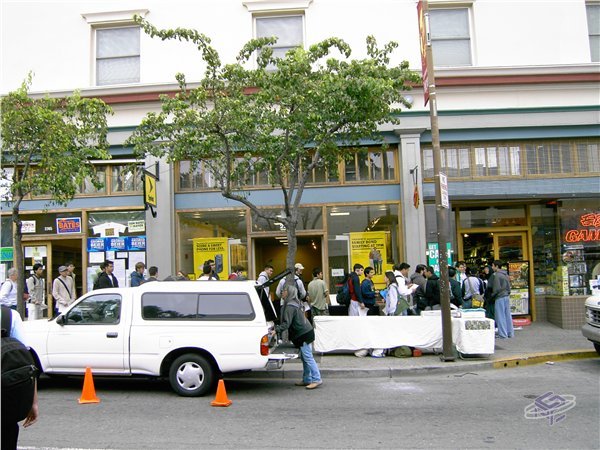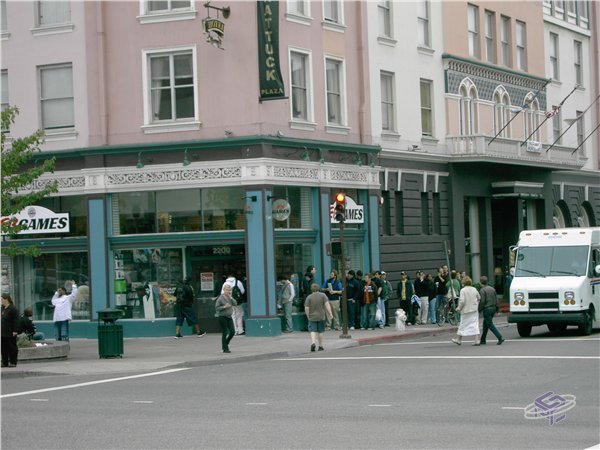 Being two of the larger EB Games stores, each store had 32 preorder slots, compared to a PS3 allocation of 16. Approximately 50 people arrived early to stand in line at each location. All confirmed customers were given a launch list to peruse while waiting.