We sat down to talk about G.Rev's latest shmup: Kokuga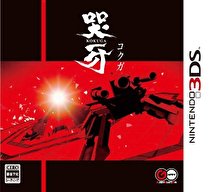 We had the chance to sit down with G.Rev CEO Hiroyuki Maruyama to chat with him about Kokuga, G.Rev's latest shmup. Hiroshi Iuchi (Ikaruga, Gunstar Heroes) was director on the game that has been called a spiritual successor to Ikaruga. Kokuga hit the eShop today, and you'll be able to hear what we thought in our upcoming review. Until then, we'll let Mr. Maruyama himself tell you why you should pick up Kokuga!


NWR: We've seen Nintendo working together with smaller publishers in an effort to release more content on the eShop, how has the experience of working with Nintendo to release Kokuga on eShop been?
HM: Up until now, all of the games we have released overseas have been done so through a publisher local to the particular region. Kokuga is the first title that we are releasing abroad ourselves. On top of that, this is our first experience releasing a game internationally on the 3DS through the download service, so it has been a series of "firsts" for us. Frankly, the process did not go as smoothly as we had hoped. However, we are relieved that the game is finally getting to the market.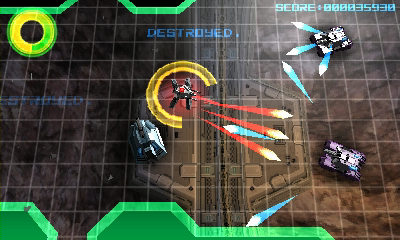 NWR: Kokuga seems much slower than titles such as Ikaruga, how has the game been developed to compensate for this?
HM: Kokuga as a whole, including the multiplayer options, was created with the concept of building a shooter that could be enjoyed casually. The speed of the game, accordingly, follows those designs and is indeed slower than more traditional shmups.
NWR: Will the game have any StreetPass or online functions?
HM: We decided to focus on the Local Play and Download Play options, so the game does not currently support StreetPass or online functions. For future projects, we are considering and would like to try to support these functions.
NWR: Other games that Mr.Iuchi has worked on have a reputation as being very difficult, will Kokuga follow this trend?
HM: As I mentioned above (Q2), the concept is quite different from other shooting games, so we do not feel that it will be very difficult for gamers. (From translator: Note that there are multiple difficulty settings, with enemies positioned differently and at different strength. "Normal" difficulty may be too simple for hardcore shmup fans, but those who would like more of a challenge do have the option to increase the difficulty.)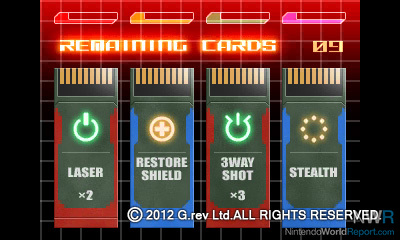 NWR: What was the benefit of using a card based power-up system instead of something more traditional, like picking up abilities from enemies?
HM: It was our priority to make the game a casual one, so from that concept, we determined that the card based power-ups system worked best. Certainly, we understand that employing a system that would allow for collecting items would further deepen the user's experience (and increase replay value for those purposes). However, from the perspective of creating a game that you could pick up and play leisurely for a few minutes at a time, we decided against a more traditional power-up system rather early in the development process.
NWR: It was recently announced that G.Rev will be developing the third Game Center CX title for 3DS. How did that happen, and what has it been like working on the Game Center CX license?
HM: Sounds like you have a good network for information!
As Bandai Namco is the publisher of the game, unfortunately, we are unable to comment on the game. We can say that we are doing our best and hope you look forward to the game!
Thanks for your understanding.
NWR: Any word on whether or not that will be releasing outside of Japan?
HM: Sorry, see above. (laughs)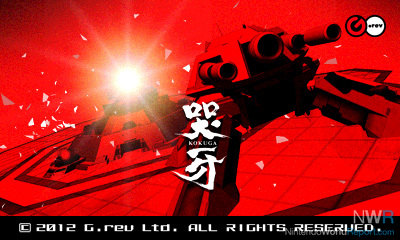 NWR: Would you consider the eShop in the future for more smaller games that G.Rev creates, or do you prefer physical releases?
HM: It would, of course, depend on the content of the game, but we are very conscious of the possibility in regards to development for the 3DS. I think we want to first see how Kokuga does in the eShop. The physical release in Japan was full priced, but we decided to reduce it for the eShop ($14.99 in the US). We hope many gamers will purchase a copy and enjoy it!