The creators of BurgerTime World Tour give us the lowdown on the WiiWare release of this classic revival.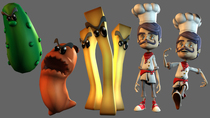 MonkeyPaw Games recently revealed BurgerTime World Tour for download platforms. They are known for publishing a wide variety of titles and brought NWR cult classic Cho Aniki to PSN. Working together with Frozen Codebase, who released Jam City Rollergirls earlier this year, the WiiWare title is set to recreate BurgerTime in a fresh way that still represents the classic arcade experience. John Greiner, president of MonkeyPaw Games and Ben Geisler, president of Frozen Codebase tell us all about BurgerTime on WiiWare.
Nintendo World Report (NWR): Why revive BurgerTime now? Does anyone even remember the original?
John Greiner, MonkeyPaw Games (JG): Anyone who knows their retro knows BurgerTime. It was that quintessential American arcade game…even though it was developed in Japan! Whether you're old enough to remember the era, you'd know BurgerTime was one of the best arcade games ever.
Many fine classics have been left for dead as time moves on. But when I was at Hudson Entertainment, BurgerTime was our best-selling mobile title, beating out Bomberman and Bonk. So we knew there was still market left in the game.
Too many retros are fitted with new graphics and then expected to fly. That doesn't work. With BurgerTime, we took the hook and wrapped it in an entirely new world. What came out is a smooth platformer with instinctively great AI, contemporary graphics and a heck of a brand name.

NWR: What is it about BurgerTime that makes it special and worth bringing to the crowded modern gaming market?
JG: The play in BurgerTime is running your routes, laying your traps and formulating your strategy. The enemies run calculated patterns so you could memorize their routes and get pretty good at evading them while stealing your slice of burger. That was the magic.
The beautiful part of a classic arcade game is the lack of reliance on graphics. The hook of the gameplay is what creates the fun. The AI is all about timing. We thought bringing that hook and gameplay to today's gamers was achievable. But we needed a new world and twist to make it modern.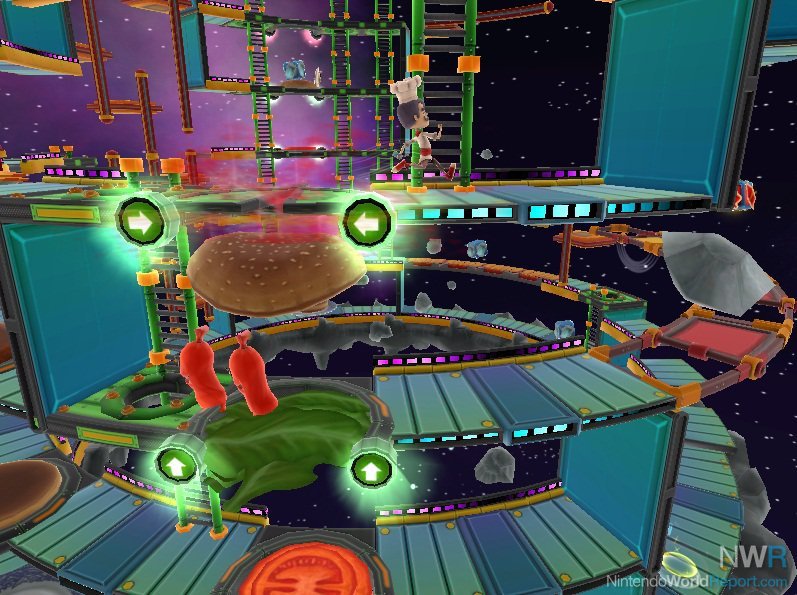 NWR: What does BurgerTime World Tour add to the gameplay of BurgerTime?
JG: We left in the retro fun but expanded the canvas so that the game delivers contemporary graphics and complexity. We instituted a Rotary Environment System where the game plane is wrapped on the circumference of a cylinder. This stretches the field and gives a 3D element where you can see through the cylinder to the other side. You can see the state of other burgers and the position of your enemies. It adds a unique playing field and introduces new platform elements while adding numerous levels of strategy that's best showcased in multiplayer.

NWR: How have you dealt with the special opportunities and restrictions of the WiiWare platform?
Ben Geisler, Frozen Codebase (BG): It was necessary to make the game smaller, just due to the size limitations. But we were able to keep the core mechanics. The development team really enjoys the limit because it pushes creativity: it's been said many times that design constraints force you to make the most important and crucial design decisions. But luckily the game already had a strong core vision which made it fit.
NWR: Are you building a WiiWare demo version?
BG: We'd like to offer a demo version at some point, but it's unclear if the game will ship with this or if it would be a later addition.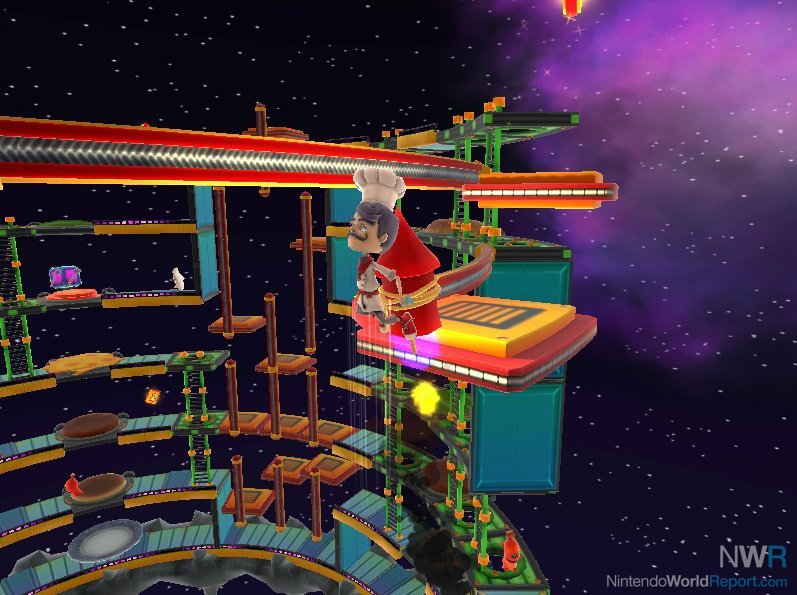 NWR: Will the WiiWare version support the online features such as multiplayer and chat?
BG: WiiWare will support split-screen local multiplayer only, so no online multiplayer or chat.
NWR: Does MonkeyPaw Games have any plans to bring more games to WiiWare or Wii Virtual Console? How about 3DSWare/3DS Virtual Console? (eShop)
JG: We're very close to our fans and react to their comments and requests. We urge them to follow us on Twitter and like us on Facebook. When we see enough promise in fans' requests, we start the process of building out products. At this time, we haven't planned on a 3DS version, but if people want the game on there, show us some love! We also get new ideas daily for games that we should revive. So your voice is certainly being heard. We're listening.
NWR: What's your stance on Cho Aniki?
JG: Sounds like a trick question! I love Cho Aniki, don't you?! We think Cho signifies everything we'd like to do in the game industry… turn it on its head and let all the great games fall out.
Thanks to MonkeyPaw Games and Frozen Codebase for the interview!