Monster Hunter FireRed.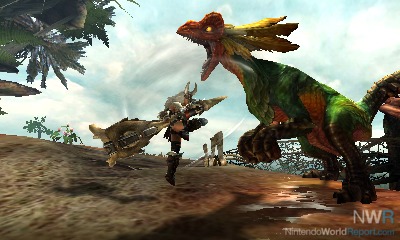 Monster Hunter Generations is the latest Monster Hunter game, and at the same time, it is a celebration of everything that came before. Coming to 3DS this summer, it's a game that comes across as the Monster Hunter take on a Pokémon remake; it has representation from and pays homage to everything that came before while also maintaining awareness of how the series has evolved and how it can look into the future just a little more.
If you look at the new monsters and locations, you would think they could call this game Monster Hunter 5. It has just as many new monsters as 4 offered – just under 20 – and there are more monsters in this game than there have ever been in the past – 105 total. There are new mechanics and features, some being very significant (read about that below), and it feels like a whole new game. It is, but the focus of Generations is to pay tribute to fan favorite locations and monsters of the past while updating them for the present. For instance, the game adds new vertical sections to old hunting areas that were created before Monster Hunter 4 came out. But again, there is plenty new here.
There are three main additions to the Monster Hunter formula this time around –
Hunting Arts: For the first time, special moves, called Hunting Arts, have been introduced to Monster Hunter. By waiting for a meter to charge up over time on the 3DS bottom screen, you can now use flashy moves to add a bit of flair to hunting. Depending on Hunting Style (more on that in a second), you can get between one and three of these moves when you go out for the hunt. The effects generally consist of massive attacks or buffs to stats or health.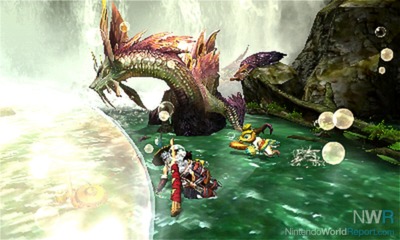 Hunting Styles: In addition to weapon class, you can now select one of four styles to hunt with when you go out to slay beasts. They affect how you play the game as well as how you use whatever weapon you've got equipped. Guild Style is more or less Monster Hunter exactly as you know it; Striker Style allows you to have three Hunting Arts equipped at one time; Aerial Style lets you focus more on combat in the air, using monsters as a platform to propel off of; lastly, Adept Style is for more advanced players to dodge enemy attacks and conduct counters.
Play as Felynes: For the first time, you can now play as the Monster Hunter cat companions/mascots, who were normally only AI partners.
Because it was in the Monster Hunter 4 engine, there isn't much else to say about the gameplay as it's probably 80% the same. The Hunting Arts were flashy as hell and very fun to use, but I'll admit I got distracted when I kept waiting for the moves to recharge and I started getting my ass beat due to getting distracted. But that was my fault 100%, and it made me realize that there's now just a bit more to keep track of on my hunts when the game releases in a few months time. That will assuredly prove to be a good thing.