Time for adventure!
When I played the Captain Toad levels in Super Mario 3D World, I thought, "I could play a whole game of these!" Well, apparently I wasn't alone, and that's exactly what this is. And that isn't a bad thing.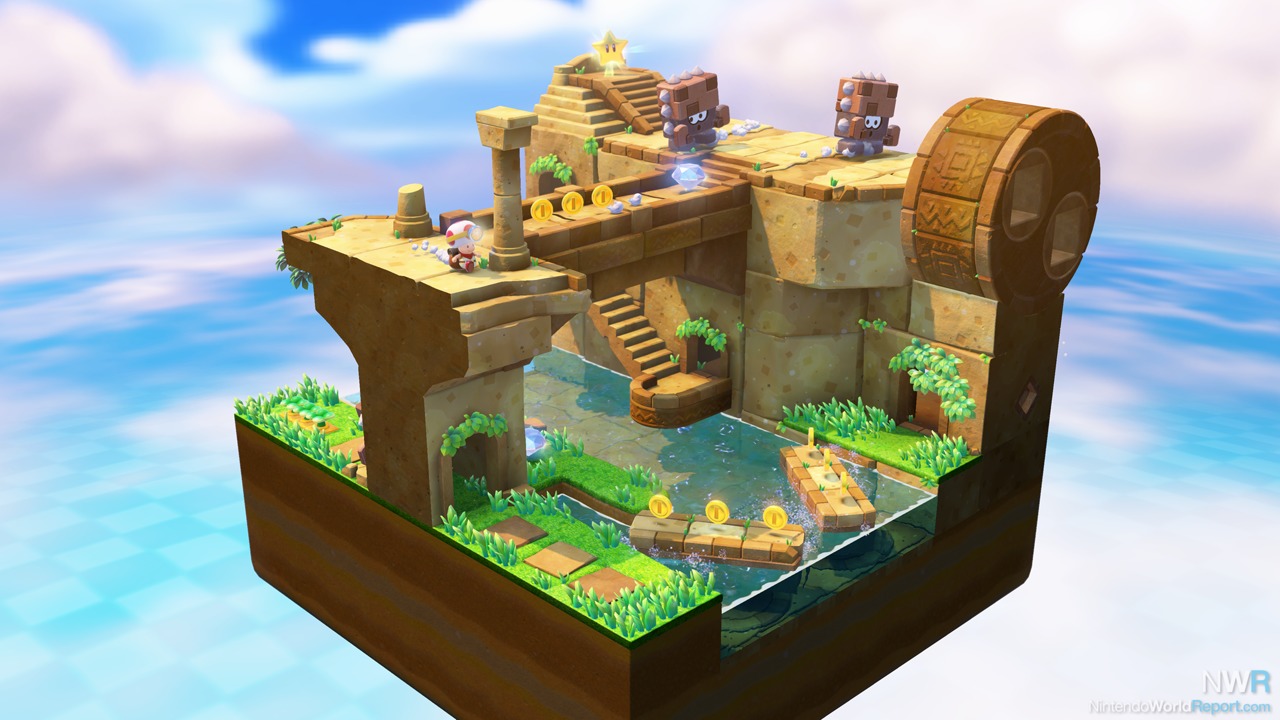 Captain Toad is a simple adventurer looking for treasure. Players must rotate the camera as Captain Toad ventures through maze-like levels to reach the top, where a star awaits. Captain Toad has no real special powers: he braves dangers, avoiding baddies to collect treasures (coins, diamonds, and the star at the goal), even though he cannot even jump. He's not totally helpless: he can run and sustain a hit (and also collect a Super Mushroom to regain his health). And, depending on the level, he has other tricks to help him succeed.
One level featured a mine cart filled with a supply of turnips. This level was essentially an on-rails shooter, in which the player must look around via a first-person view on the touch screen using the right stick and/or gyroscope and throw turnips to collect coins and diamonds and kill baddies. Turnips (a la SMB2) can be pulled from the ground to grab additional coins and, in some cases, a diamond. POW blocks were also scattered about that, if hit, would destroy multiple enemies and/or collect the surrounding treasure.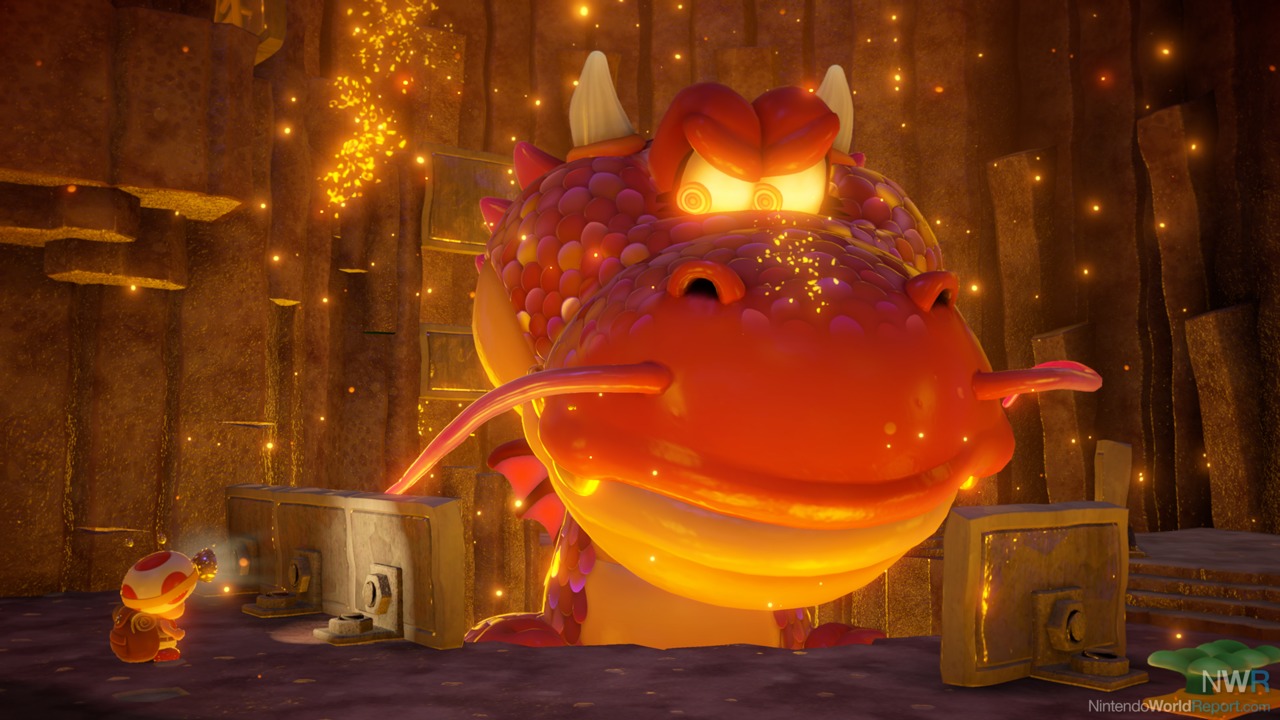 The boss level on display had Toad grabbing treasure and moving upward in a cylindrical-shaped stage with a lava dinosaur in the middle, spitting fireballs at you from the background. Captain Toad must use metal plates and other objects as he climbs ladders and nabs treasure on his way to the top. This level reminded me some of the Scarecrow segments in Arkham Asylum, and was in my opinion the best part of the demo. There were also turnips in the ground on this level, which when pulled yielded a coin; some turnips required held multiple coins that could be collcted by tapping the A button multiple times (similar to some coin blocks in a Mario game).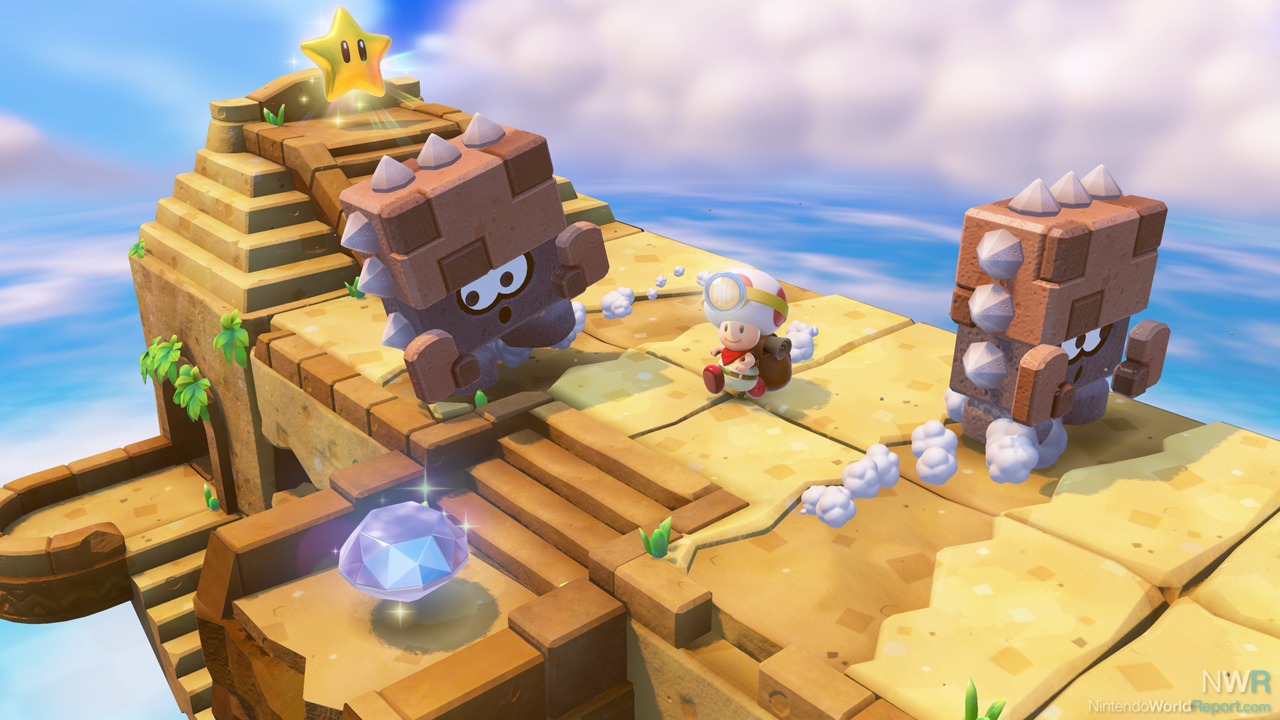 The final level I played took place in a ghost house themed area. In this level, the player is asked to go through a series of connected doors to traverse around and up the central structure. Interestingly, Captain Toad could kill a Goomba in this level by entering a door on the ground connected to one in the air--when exiting the upper door, Captain Toad falls straight down onto the Goomba, squishing him. It will be interesting to see the extent to which the environment can be used for combat purposes in the final game. This level also required the player to tap outlined segments of the central structure in order to move them; many of the doors were attached to such moving blocks, which must be placed correctly to proceed or to collect treasure. Honestly, to me this level felt like a poor Crashmo knock-off; it wasn't terrible, but it felt counter-intuitive. For example, the demo expected me to tap the movable blocks--dragging my finger did not seem to register, and at times I incorrectly concluded that a particular wall was not movable. Hopefully this interface quirk will be resolved before the final game.
The E3 demo had its quirks, but I have no doubt this will be a very enjoyable puzzle-platformer for the Wii U. It's hard to imagine it will be meaty enough to warrant a full-price retail release--if that's what Nintendo decides to price it at--but the E3 2014 demo sure was a fun little romp!