Yoshi's epic yarn-inspired adventure feels like pants.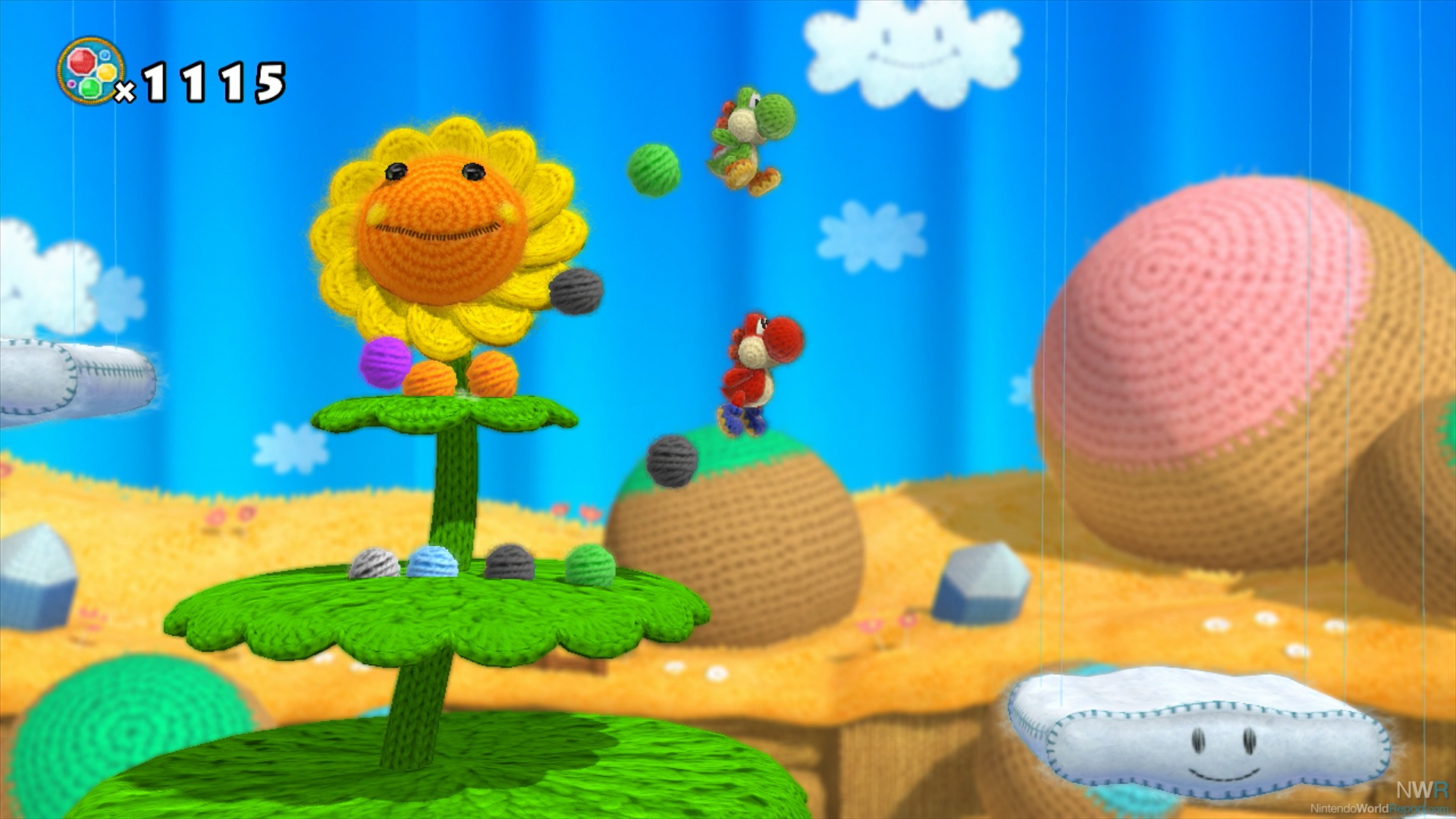 A year and a half after its first announcement, we finally saw Yoshi's Woolly World. This Good Feel-developed game feels extremely similar to their previous game, 2010's Kirby's Epic Yarn on Wii. However, Woolly World also brings a good deal of Yoshi flavor to the table. The E3 demo featured three levels, each of varying difficulties.
The first two levels were a little more routine, featuring a great deal of secrets to find. Some of the first level was frustrating because you had to reveal hidden clouds in specific spots that weren't as intuitive as I explored with my co-op buddy. The third level was where things got really cool, though. Using a different type of egg that was a Yoshi enemy neither the Nintendo rep nor I could recall the name of, you could shoot it to form a cloud path. This opened up the puzzles in wonderful ways, as we'd have to line up the cloud paths and carry and boulder to crush a Piranha Plant or a wall to unlock a secret. Some of it got tricky, and solving these puzzles felt fantastic. If the rest of the game builds on that, 2015 can't come sooner.
Aside from the yarn aesthetic, this feels like a Yoshi game. You still collect five flowers (called Smiley Flowers), most of which are hidden away in nooks and crannies behind question-mark clouds. Woolly World doesn't keep the red coins or the counter, though the latter makes more sense since Baby Mario is nowhere to be found. In its place, Yoshi is also looking for three pieces of Wonder Wool in each level. It's unknown if there is a reward for collecting either.
While there were some rote scenic transformations involving unraveling yarn, a lot of the scene transformation magic of Epic Yarn doesn't seem to be present in Woolly World, though Yoshi does transform quite a bit. When he flutters, his legs turn into a propeller. When he ground pounds, his body turns into a hammer. It's delightfully adorable, very reminiscent of when Kirby turned into a car.
While it's hard to judge the full difficulty of a game from an E3 demo, the philosophy behind the challenge in Woolly World seemed similar to Good Feel's last game. The challenge is derived from collecting everything instead of having hard platforming or combat situations. It's still lovely fun, and as someone who adored Epic Yarn, it reminded me a lot of the absurdly happy feelings that soared over me when I played that game. However, according to the game's producer (and legendary Nintendo game maker) Takashi Tezuka, the sample at E3 isn't representative of the full difficulty. Woolly World, in Tezuka's eyes, is a game made for gamers while Epic Yarn was made for a younger crowd.
The co-op in Woolly World seems similar to Epic Yarn as well, as the second player plays as a red Yoshi. However, in the demo, the second player could only use a Wii Remote. This was frustrating because egg throwing was in an awkward placement (the A button). Still, players can eat each other, producing an egg out of another Yoshi. When you eat another player, they lose the eggs they had. It is a magnificent piece of trolling, and you can even throw them in their egg form to hit enemies. Or you can just throw them into a pit, because why not.
It'll be a while before you can get your hands on Yoshi's Woolly World, as it isn't expected until 2015.