I'M ON A BOAT.
If you played RE: The Mercenaries 3D, you've already played a demo for RE: Revelations, but that demo was about five minutes long and not especially interesting. Today, though, everybody with a 3DS gets the opportunity to download an impressive demo that's obviously taken straight from the full game. The fact that a demo for a retail product exists on a Nintendo platform at all is incredible, though that excitement is tempered by the fact that you can only play it 30 times. To be fair, you could play it once a day until the game releases and still have 10 plays left over.
This is the E3 2011 demo—Jill wakes up in a mysterious bed in what appears to be a fancy bedroom. Cat suit unzipped and gun in hand, Jill (Ms. Valentine if you're nasty) gets up and ready to figure out where she is and what's going on.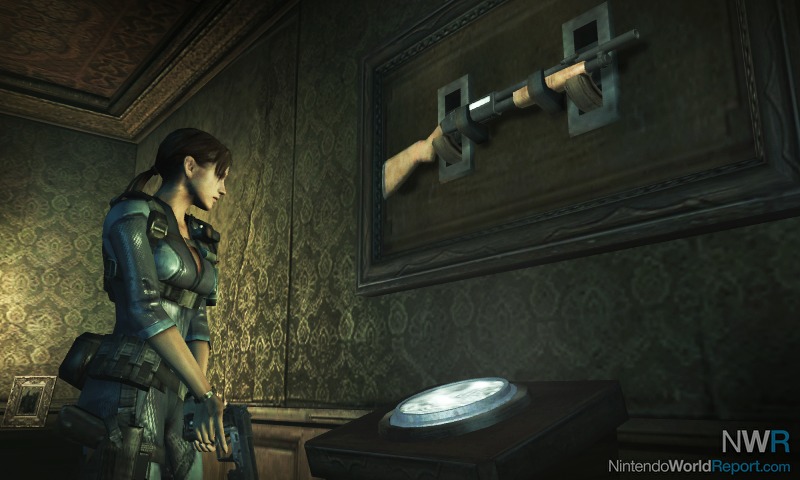 This demo is worlds beyond what the Mercs demo offered. Jill wakes up, as I said, in a bedroom. The door out is locked, and Jill has to hack the lock to open the door, using a screwdriver and a touchscreen mini-game. The mini-game was shockingly good—place four power nodes on four yellow ports. The caveat is you cannot jump nodes over each other. I can only assume these puzzles become more complicated later in the game.
On her way back from finding the screwdriver in the bedroom's adjoining bathroom, Jill has her first encounter with one of Revelation's new monsters: the Ooze. It looks more like a Silent Hill beastie than a Resident Evil zombie-type creature. It moves awkwardly toward Jill and will whack her with one of its stumpy, fleshy arms if it gets close enough. Luckily, that's where the gunplay comes in: hold down the R button and press Y to pull off a few rounds. Holding the L button allows Jill to strafe (I'm reminded of the situation in Metroid Prime), but I never found it necessary. For the curious, you can toggle between first and third-person mode for shooting things. I actually like first-person more. This was a surprise given the set up in RE4 and RE5—games I loved.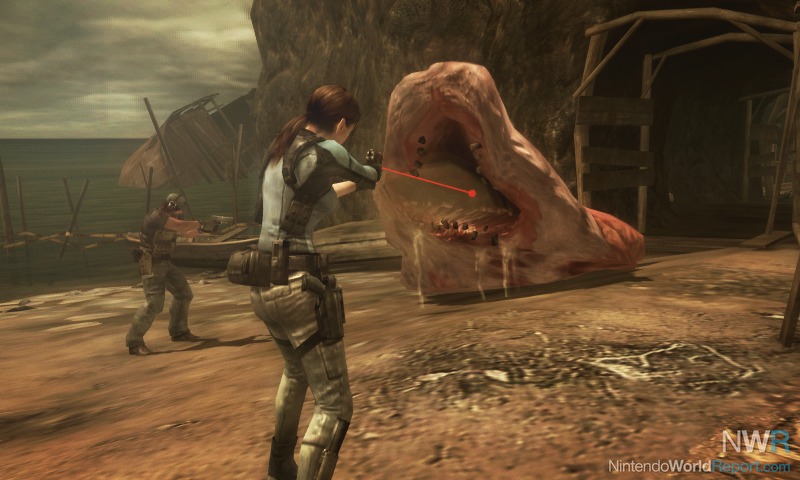 After getting out of the bedroom, Jill finds ammo, an herb, and a shotgun. After moving through some abandoned rooms and hallways, Jill gets into a foggy dining room, and things take a turn for the interesting. The room is purposefully set up to evoke the foyer in the original RE's Arklay Mansion, complete with a central door bearing a mysterious crest. Luckily, it's unlocked from the get-go this time, and Jill can find an "Item Scanner" inside. It's Revelation's version of the Scan Visor—it will find hidden items and give information on certain things. I noticed that scanning monster corpses fills a percentage bar. One can only imagine that concept art or a monster profile is unlocked when that bar fills up all the way after several corpse scans.You can find a few previously hidden items with the scanner, which is neat.
A few more rooms in, and Jill is faced with her first multi-monster battle: two standard Ooze creatures and a new guy. The new fellow looks like a bloated Ooze and blows itself up with just a few bullets, so stand back. The ability to strafe is great in these confined areas with multiple enemies to topple. In the very next room, Jill comes across the demo's final monster type. It's another version of the Ooze, featuring saw-like arms, and it acts very much like the Garrador enemies from RE4, even down to the attack animations. This guy is basically the demo's "boss," but if you've been saving the two grenades you've acquired, he goes down pretty fast. In the next room, you meet your partner, Parker, and follow him without interruption to the ship's bridge, where a cutscene—featuring one of the game's new antagonists—ends the demo.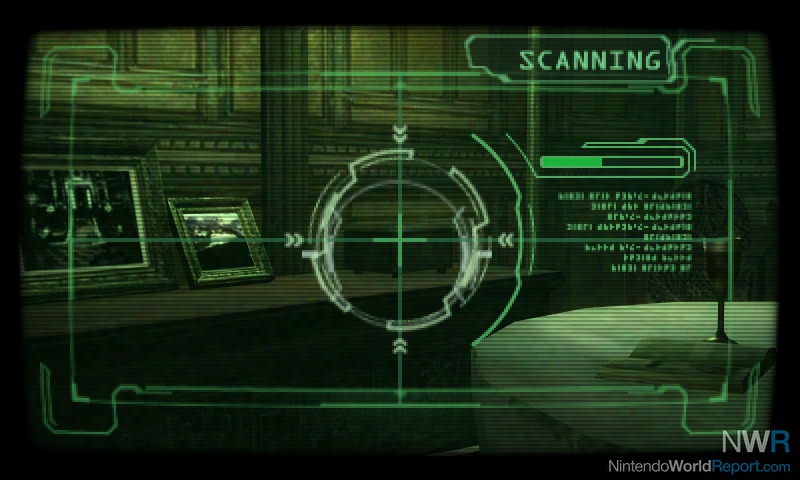 The demo is excellent and shows off the best new features of the game—touchscreen puzzles, improved gunplay, the inventive Item Scanner, and Jill's strategically unzipped cat suit (so sue me). The demo may seem lengthy, but in fact it's quite short once you play through it two or three times and you know what you're doing. Still, it's a great taste of a delicious game; February 7th can't come soon enough.