Keep doing those barrel rolls.
Nintendo had me out to play Star Fox 64 3D, and I had a chance to play through a few single player levels, as well as go head-to-head against three Nintendo employees in the revamped battle mode.
The graphics and sound have been greatly improved over the original, perhaps more so than the Ocarina of Time 3D remake. Since most of the enemies are mechanical and thus boxy in design, the polygon increase isn't especially obvious, but the graphics are significantly improved in other ways like better texturing and smooth frame rate. And in particular, stages with water (Aquas and Zoness) have some very flashy lighting and shader effects that are some of the best yet achieved on the handheld system. With the communication window moved down to the touch screen, the 3D screen is freed up for the upgraded visuals.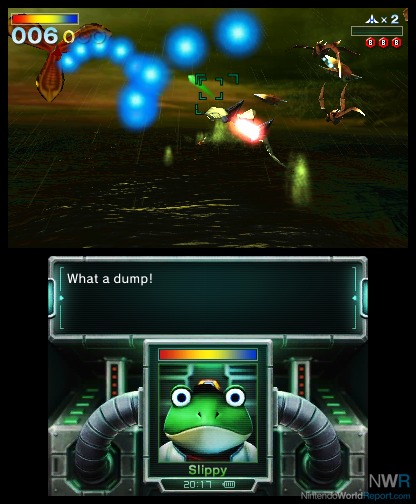 The iconic voices have been re-recorded, and an attempt was made to get the original voice actors where possible. The dialog has not changed, though, so the game retains its campy banter.
Like Ocarina of Time 3D, a gyroscope control option has been added. Depending on your play style, the gyroscope controls can complement or hinder your controls. I felt that they work best during the single-player on-rails portions where moving your targeting frame is natural. I fought against them a little during multiplayer and in all-range mode where sharper maneuvering in 3D space is required.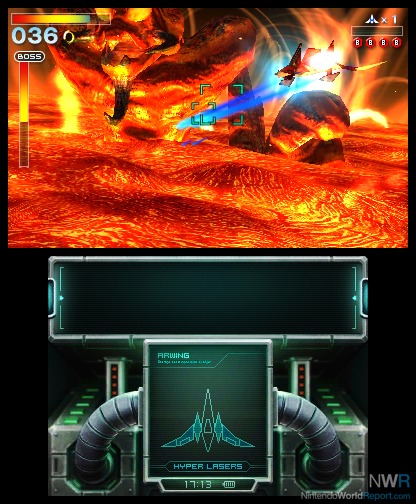 The regular controls work well; it's similar to the N64 scheme, but U-turn and loop maneuvers have been moved to the D-pad. There is now the option to use inverted or normal Y-axis controls.
One problem that's been solved over the original is that the game had to be played in one sitting. The lack of saving capability coupled with the branching story paths, it's very possible that even Star Fox 64 veterans haven't played all of the levels. In the remake, once levels are reached, they become selectable in a score attack mode where players can earn medals depending on the number of enemies killed and chain bonuses. Furthermore, the game offers 3DS and N64-style control modes, and medals are earned separately for each.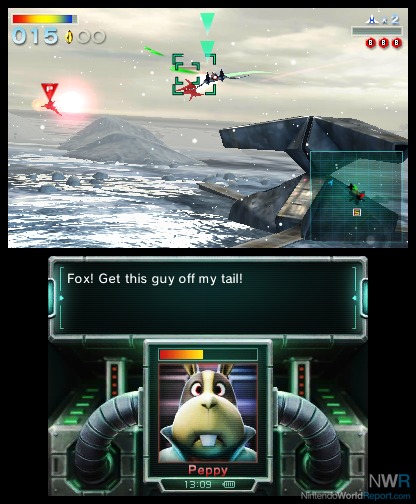 Multiplayer in the original game was a bore, so I was pleasantly surprised at just how much it's been improved. It's practically a new game. There are four multiplayer stages with a diverse set of structures and designs - Corneria, Meteo, Venom, and Macbeth. Multiplayer includes a number of options such as control scheme, item switches, and handicaps. Matches can be timed, set to meet a kill goal, or be one-hit survival. However, unlike in the original, the battles are now all aerial.

The biggest of the new additions are question mark containers hold a variety of power-ups much like in Mario Kart. Items include force fields, homing missiles, invisibility cloaks, "super nova" energy shots, and "slow burrs" that attach to wings and must be shaken off by tapping L and R repeatedly. Another item called "transpose" switches players' positions and damage. The ultimate item is the firebird, which grants one-hit kills and the ability to fly through walls.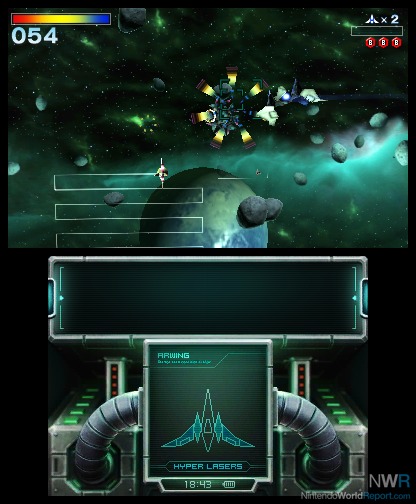 One feature that might seem strange for local multiplayer is the use of the camera, which tags players' Arwings. (Players shots are also color coded so that you can tell who is firing on you.) However, in a clever use, it snaps shots right after you are killed and shows them off at the end of the match. You can also redirect your Arwing at specific players by clicking on their face on the touch screen. Additionally, after being shot down, you can hold Left on the D-pad to immediately target your assailant for revenge.
I enjoyed the multiplayer greatly, but I am saddened to think that I won't get to play it any time soon. I don't know anybody locally with a 3DS, and multiplayer is local only.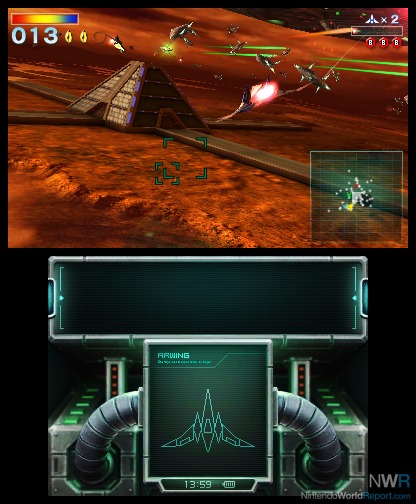 On the positive side, the game supports single-card play. According to the Nintendo representative, the game loads its data to the other 3DSes in such a way that though the first connection is slow, subsequent connections even on following days will be very fast.
Star Fox 64 3D improves upon the original, especially in regard to multiplayer mode. If you've never played the game, or even if it's just been a while, the fresh coat of paint and extra play options makes it feel fresh, with just enough throwbacks to keep it from becoming too serious.