It's finally hands on time with Ignition's latest Japanese import, in the absolute worst environment imaginable.
Arc Rise Fantasia came out in Japan a year ago. At E3 2010, I got my first chance to play the game.
The first section I was shown was the tutorial portion. The battle system let me choose to use physical attacks, magic, or special skills. Each party member has their own expendable skill points, which they use when attacking. However, the entire party also has a pool of points that they all draw from with each action in a turn.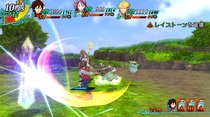 The battle screen.
Each turn, you're able to assign actions until you decide to execute your orders or you run out of energy. I found it difficult to get a real handle on how to work the battle system. However, being thrust into the action on the show floor could be as likely a reason for this difficulty as the game itself.
The second portion of the game had me running around a town, overrun with enemies, along with a full contingent of allies. I was able to avoid many battles where as others managed to get me. After working my way through town I confronted a boss who didn't seem particularly difficult. Then I died.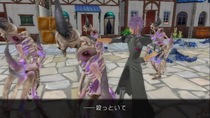 I just played the demo, and I already don't like this guy.
The game looks colorful but a but a bit jagged at the edges (literally).
Hopefully some extended hands on time with this game will clarify it's workings; it comes out July 20.