Legend of Zelda meets Wii Sports Resort.
Following Nintendo's E3 2010 press conference, I got a chance to play the latest Legend of Zelda game, subtitled Skyward Sword. The graphical presentation, which isn't final, reminded me of a cross between Wind Waker and Twilight Princess. It's rough, but the watercolor presentation is nice. Unfortunately, the watercolor presentation is not final, and the graphics presented at E3 2010 are merely a rough draft.
The sword controls like the sword in Wii Sports Resort, and it uses MotionPlus. You move it around in 1-to-1 movements, and a lot of the enemies are defeated by slashing the sword in specific directions. There were Deku Babas that had to be sliced horizontally or vertically, and a Stalfos that wielded two swords that you had to attack when there was an opening.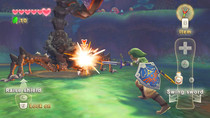 You can also perform a spin attack by doing what the representative referred to as a "dance move." You basically cross the Wii Remote and Nunchuk. It sounds weird, but it works well. You can perform other similar moves as well.
Link also wields a shield, which is controlled by the Nunchuk. You raise it to defend, and thrust it forward to deflect projectiles from enemies, such as Deku Scrubs that fire off seeds at you. You have to time the thrust to deflect it back at them.
There's also a cadre of weapons to wield. The bow is basically archery from Wii Sports Resort, and despite the interference that ruined it during the press conference, it worked just as well as it does in Resort. The bombs also feature a Resort influence, as you can bowl them towards enemies or obstacles. Conversely, you can lob them. I had trouble getting the game to differentiate between the two in my playtime. There is a whip that uses the MotionPlus in a whipping motion. It's cool, but it has a limited effect on enemies and seems to only be used to get faraway items or possibly switches. The weirdest weapon is the little bug that you send around to scout areas and pick up items. However, there wasn't much use for him in the demo.
Skyward Sword looks to be on the right track. The demo seems to be more of a proof of concept, as there was no hint to any kind of game structure, but it was fun and the new controls are great in my opinion. It feels a little weird to control Link in such a new manner, but it still feels like Zelda, and it could be a potential evolution in the franchise.