Here's your primer for our upcoming Community Night!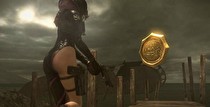 Resident Evil: Revelations has an addictive new game mode called "Raid Mode." It's something like a combination of Mercenaries mode and Call of Duty's multiplayer, in that you level up, acquire better weapons, and earn combat perks. While largely similar to the main game—even to the point of using the same maps—Raid Mode challenges players to take a specific, customizable loadout and blow through a given stage, with an ever-increasing number of enemies, in the fastest time possible. Once you clear the first 20 stages, you can replay them on the next difficulty level, and then once more on the hardest difficulty level (it is truly nightmarish). Raid Mode takes some getting used to, but in anticipation of our Community Night in the coming weeks, I thought it would be a good time to dole out a few things to keep in mind to make your journey through the Queen Zenobia easier.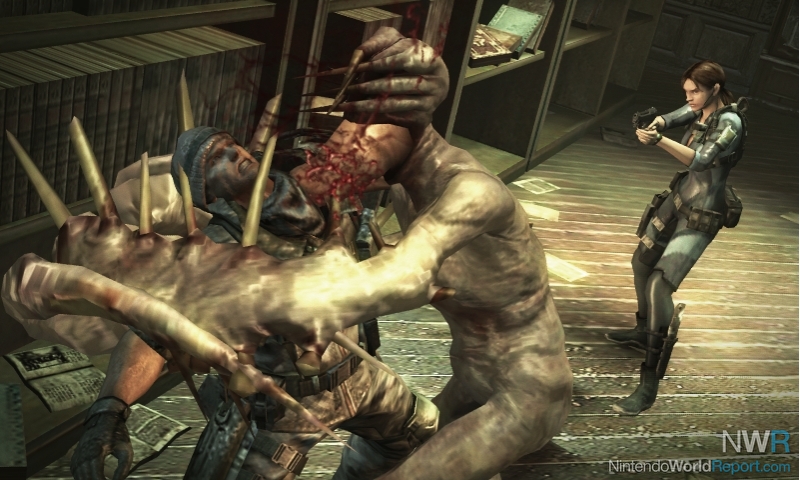 Oh, shit!


Replay levels often, and early.
Nothing's stopping you from going back to completed stages, even on easier difficulty levels, and blowing through them again with better weapons. You're basically getting free experience and Shop money (BP), and you can often get Missions done in the meantime. "Kill specific enemy" missions net you a sweet BP bonus, so don't miss an opportunity to revisit missions for that purpose specifically.
Make note of your weapon's ratings.
Like, on a piece of scrap paper. This saved me a lot of heartache when shopping in the store. Since the weapons change at random whenever you leave the shop, it will be good to know right away whether that shotgun is better or worse than your current shotgun. On some occasions, you can buy weapons that are one or two levels higher than your character's level—it sure doesn't hurt to buy them for the future. Notice that whenever you complete a mission, you'll get at least one, but usually two new weapons. They are almost always inferior to your current stock.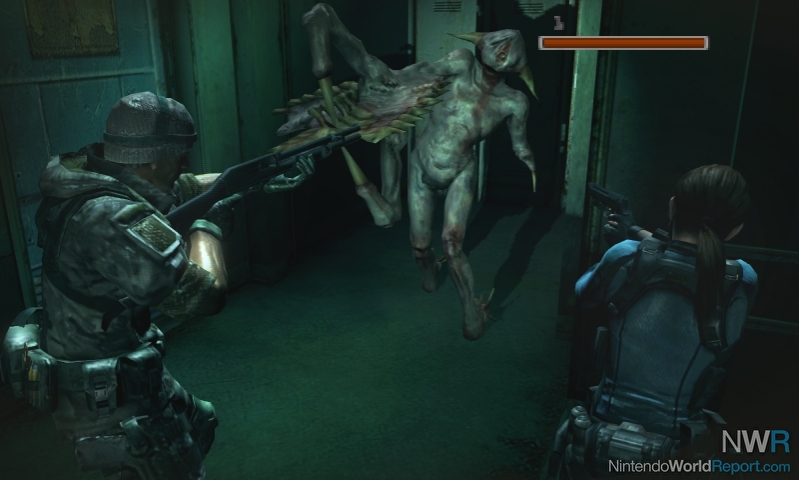 Kill it with fire!


Weapon ratings > Perk slots.
If you find yourself having to choose between a handgun that does 5,145 damage with two perk slots and a handgun that does 4,870 damage with four perk slots, just go with the higher base rating. You can't use two of the same perks on the same gun, so you can't stack damage modifiers. Generally, I've found that an increased magazine size and good stopping power are lifesavers.
Perks are still important.
Don't ignore perks. You won't start getting crazy good perks until the end of the second difficulty and a little ways into Abyss, but you should still play with the perks you like. Shotguns get their own specific perks, and you should be aware that not every perk can be equipped with every weapon (for example, Lv. 3 Stopping Power can be equipped on a handgun, but not Lv. 4 and above). Know the limitations and customize your weapons to fit your play style and the situation. If I'm facing a very difficult mission, I'm not above messing around with different perk strategies.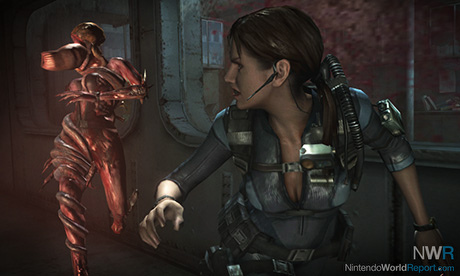 Unfortunately, non-mutated Rachel is not available as a character in Raid Mode.


Mix up your arsenal.
While it's easy to fall into a familiar weapon routine, Raid Mode's higher difficulty levels will demand experimentation. Magnums are insanely powerful, sure, but their fire rate is atrocious, and when the "speedy" enemies start cropping up left and right, magnums suddenly become a liability. I always take a powerful handgun wherever I go, and a good machine gun is incredibly useful, but that last weapon slot tends to flip between a rifle and a shotgun on the tougher missions. The rocket launcher may look sexy, but keep in mind it's a single shot, it takes the place of an entire gun, and on Abyss difficulty, it won't make a dent on what you think you'll need it for.
Extra storage? Why bother?
Since you don't need two of any weapon type in your inventory at one time, there's little reason to invest a hundred thousand BP's on more weapon storage. When I start getting new weapons in my inventory, I just trash the inferior ones and keep the better ones.
Restocking is important.
Especially once you start toddling into the highest difficulty level, it becomes incredibly important to restock all your grenade types, ammo, and possibly herbs between missions in the store. You'll also want to invest in ammo and grenade bags, which increase maximum ammo/grenade capacity. These are expensive investments, but they're priceless when you're faced with a room full of enemies. If you need some extra cash, go replay an earlier, easier level. Do not underestimate the value of restocking!
Legendary weapons aren't necessarily great weapons.
There are four "Legendary" weapons: the High Roller, Drake, Muramasa, and Pale Rider. They all look fancy but you'll either earn or buy better weapons before too long. It's true that, usually, a Lv. 22 Drake is rated better than a Lv. 22 Windham Shotgun, but Legendaries crop up so rarely that they shouldn't really factor into whether you keep them or not. Be sure to buy one of each, though—you'll get a completed mission for that.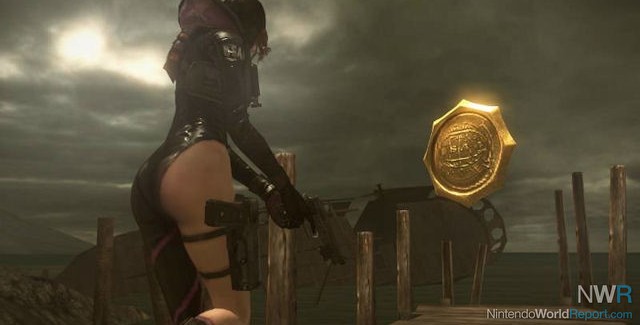 Jessica's wetsuit designer was having an off day.


Know thy enemy.
Raid Mode's enemies come in different varieties than in the main game. They level up, too, and the highest-level enemies are in the Abyss difficulty (not surprisingly). Leveled-up enemies have greater attack power and higher HP. In addition, there are enemy variations: big tall enemies with shield or fist icons by their heads indicate exponentially higher defense or attack power, respectively. Tiny enemies move disturbingly fast and are marked with a blue "running man" icon. Very fast Ooze enemies aren't as much of a problem as, say, very fast Scagdeads or Scarmiglions. In fact, when encountering fast Scarmiglions, try to shoot off their legs first—the resulting crawling torso is much easier to deal with than the unpredictable electric notochord. It's also a good idea to learn how to dodge. I'm not very good at it, but it's incredibly useful in getting through Draghignazzo fights on Abyss difficulty.
It's arguably more important to learn where enemy weak points are. The Story mode doesn't really teach you this, but you'll figure it out pretty quickly in Raid Mode. If you ever get an opportunity, run up to a stunned enemy and whack them with a fully charged melee attack: it's the most powerful weapon in your inventory (seriously).
Grenades for every situation.
Learn which grenades work and when: normal grenades are good for general crowd control but won't have much of an effect on boss-type enemies. Shock grenades don't do a lot of damage to most creatures but do a LOT of damage against water-based enemies, including Sea Creepers and Ghiozzos. B.O.W. decoys work great on everybody except Hunters, who don't seem to care, but the ensuing explosion isn't very powerful. B.O.W. decoys are best used (at higher difficulties) as distractions so you can get the hell out of there. Finally, the most useful type is the pulse grenade, which does NO damage at all, but stuns every affected enemy. This can be useful for distraction, but it can also be great for racking up some melee damage. Most characters can hit two or three closely packed enemies with a single fully charged melee strike.
THIS is a knife.
Your stabby-stabby weapon may seem completely useless, but don't underestimate its damage potential. If you have the opportunity to get in close and don't have time to initiate a good melee strike, start slicing and dicing. You'll take off a respectable chunk of your opponent's health bar. Just be sure to run away before the enemy retaliates!
For fun and BP.
Once you hit Lv. 40 (and you will), try going back through the first two difficulties. No, really: it's a blast. Assuming your weapons are at about the same level you are, you'll be killing even boss-type monsters with just a few shots. It's incredibly fulfilling, it adds to your total mission count (complete 100 for a bonus), and you'll stock up on BP, perks, and bragging rights. Then you'll move on to Abyss, and your feelings of empowerment will go RIGHT down the tubes.
Because Abyss is insanely hard.